CAMPUS PARTNERS SPOTLIGHT
The Inclusive Campus Initiative project Outcome #1 is to "Increase awareness of DEI efforts on campus." Let's celebrate our collective DEI efforts as we build an inclusion eco-system across this beautiful campus. We must all be part of the solution!
* * *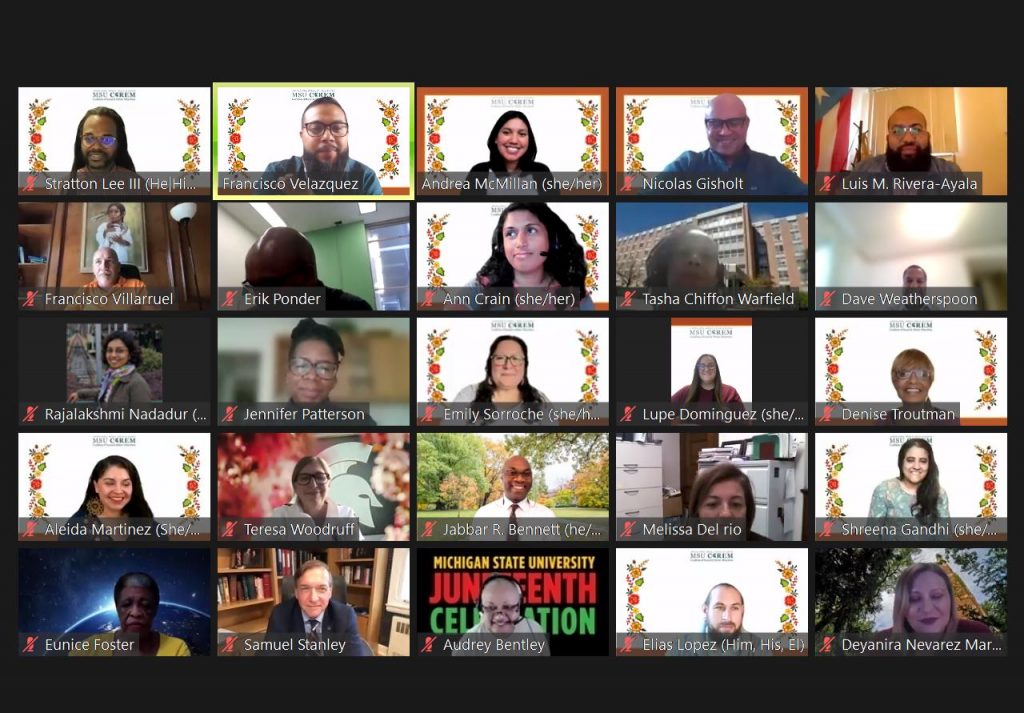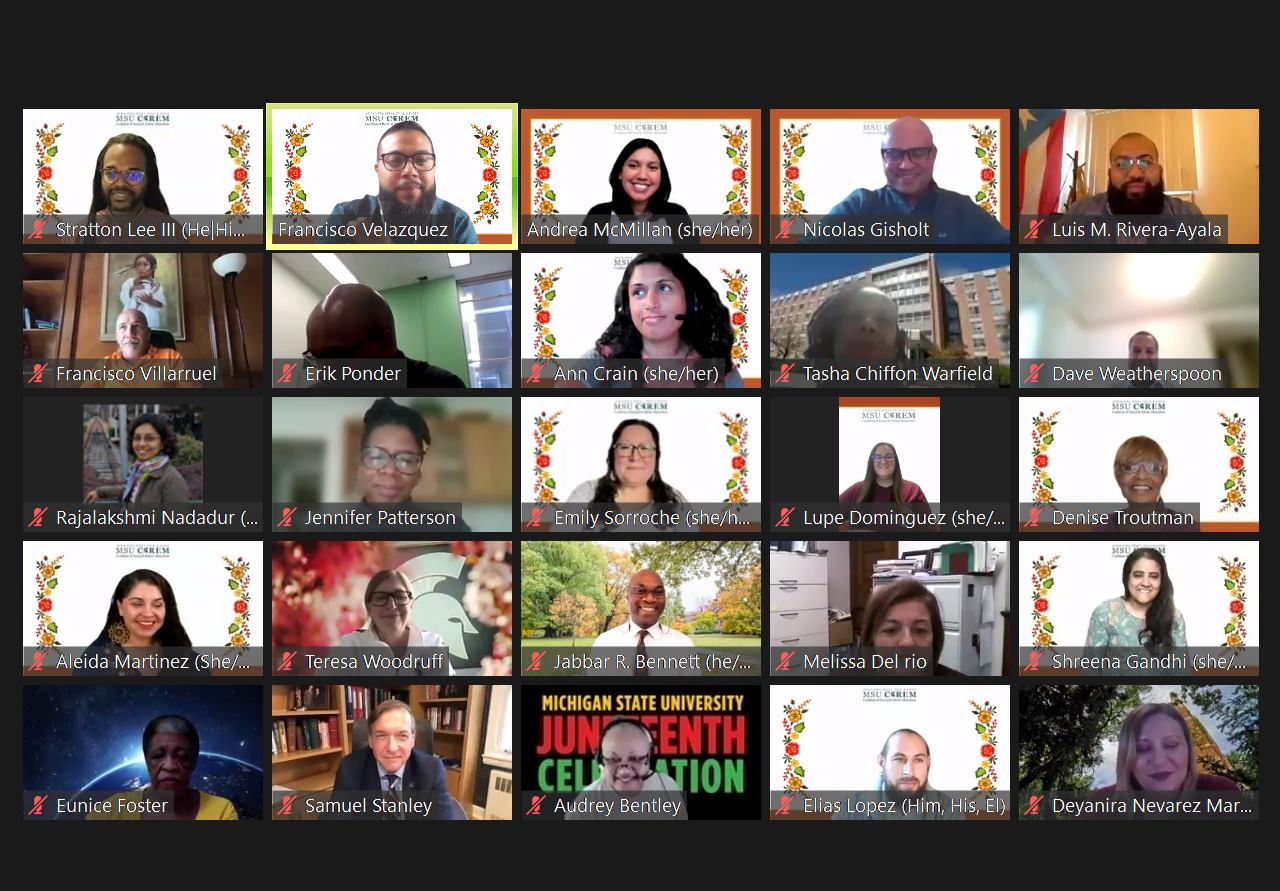 CoREM (Coalition of Racial and Ethnic Minorities)
The Coalition of Racial and Ethnic Minorities (CoREM) comprised of Asian Pacific American Islander Desi American/Asian Faculty and Staff Association (APIDA/AFSA) , Black Faculty, Staff & Administrators Association (BFSAA), Chicano Latino Faculty, Staff, Specialists and Graduate Student Association (ChiLA) and , Educating Anishinabe: Giving, Learning, Empowering (EAGLE)  is an advisory and advocacy council to the University.  CoREM will hold the University accountable for monitoring, advancing and supporting Diversity, Equity, Inclusion and Engagement for historically underrepresented racial and ethnic students, staff, faculty and administrators. CoREM is a leadership team that advocates for faculty, staff, and administrators of color to ensure they have full participation at/in MSU.
Highlights from CoREM
Monthly meetings and meet with administration
Host the annual welcome reception for new faculty, specialist and staff of color.
Advocating for with President and VPCDO for:

HR audit
Still ongoing but there is at least a pay equity audit is being conducted
Furlough Audit
Credit EAGLE but supported by all of us, Land Acknowledgement
Contact Information and how individuals interested in each affinity group can get involved.
* * *
REHS (Updates from Associate Director for Diversity, Equity and Inclusion)
Eduardo Olivo uses He, Him, El pronouns and he has been the REHS associate director for DEI since July 2021. Eduardo, an immigrant from Venezuela, has a passion for authenticity, cooking, reading and social justice. Eduardo's vision is to help REHS become an antiracist department and to help center the voices and multiple lived experiences of those who have been historically excluded.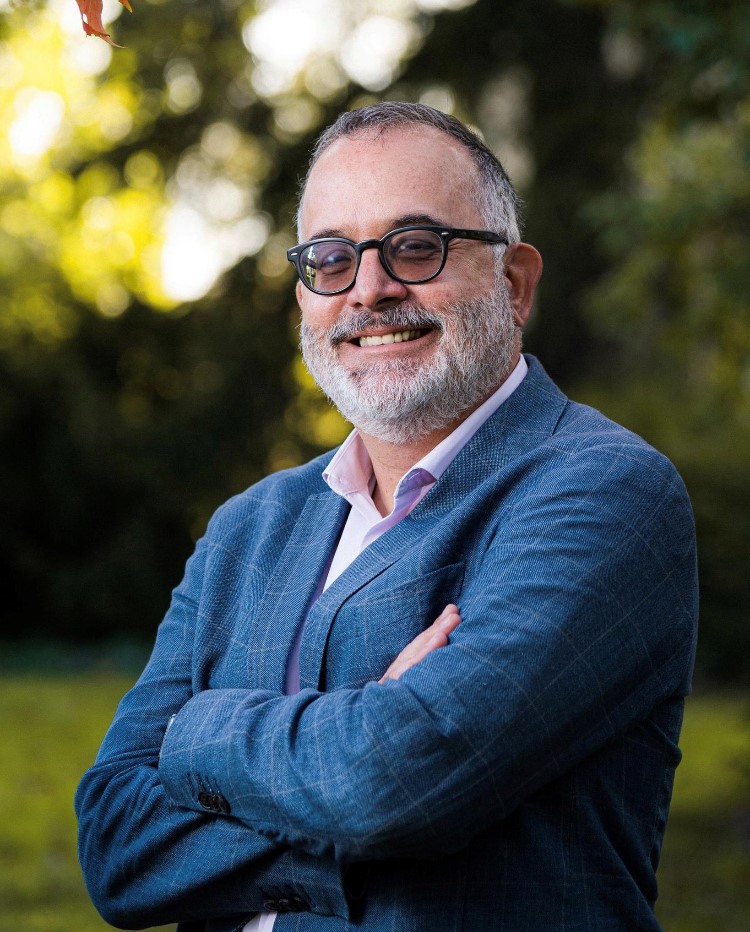 REHS DEI Highlights – Fall 2021-Spring 2022 (On-going efforts to support student demands)
New Bias incident response initiative – The REHS DEI unit meets with students face-to-face (or virtually) who experience harm within 24 hours to provide support and resources; a process for sharing bias incidents and therefore be accountable to minoritized communities will launch in spring 2022.
New DEI training framework for RAs and ICAs (R.I.D.E.) – RAs and ICAs engage in DEI dialogues monthly under the umbrella of the R.I.D.E. program (Reboot, Interrogate, Dream and Enact).
REHS DEI unit has grown since 2016 from one staff member to now three DEI professionals (including a graduate student).
More REHS Educational Resources for staff members – Monthly DEI slide decks and lesson plans are shared with REHS staff for dialogues to take place around DEI issues.
Intentional advising, mentoring and genuine relationships between REHS and student leaders in minoritized communities – REHS meets regularly with student leaders and student leadership teams with the goal of creating authentic relationships. Examples include Residence Education Community Directors meeting monthly with BSA, the REHS DEI unit meeting student leaders in programs and meetings on a regular basis and REHS Advisors supporting transcend and RHA student leaders on their fight against structural inequities, among others.
New REHS commitment to racial impact analysis using a trauma informed care practices lens – REHS Racial Impact Analysis Team will launch in February 2022; Its goal is to analyze all student conduct policies through racial impact analysis lens.  Main outcome is to neutralize manifestations of oppression that are embedded in policies, practices and protocols around student behavior.
Expansion of the Hate Has No Home Here campaign– the Hate Has Has No Home Here graphics and pledge statement have been shared in multiple new student communication and in all our New Student Orientation materials, and students will see this statement throughout the residence halls at move-in. HHNH is also going through a reengineering process that will lead to a more holistic and comprehensive DEI initiative.
Increased representation of minoritized positions in REHS (RA positions and leadership positions) – the RA team continues to become more racially and ethnically diverse (past 3 years) and REHS Leadership Team teams have also become more racially and ethnically representative. HR DEI best practices in recruitment, selection and placement oof staff members at all levels have been embedded in these processes. REHS continues to intentionally incorporate the new SLE HR DEI tool kit as the framework of all their hiring processes.
Overhaul of DEI training for residence hall staff – REHS, in its aspirations of becoming an antiracist, anti-oppression department in SLE, continues to offer workshops, dialogue series (modeled after the MSU Dialogues program) and educational resources on white supremacy, privilege and oppression, antiracism, identity and the issues of the times (in the context of a global pandemic).
A more proactive role of REHS as an institutional DEI partner – REHS works directly with other DEI community partners in panels, conferences and signature MSU DEI programs, with a focus on centering the voices and multiple lived experiences of those communities that have been historically excluded.
Revamped Emergency and Wellness Resource Guide – This resource in its new version provides information on reporting acts of racism and discrimination.
More stringent RA hiring and vetting processes to ensure enhanced DEI skill sets and a higher level of representation – Virtual interviews; interviews spread out over longer periods of time; involved more external partners and student leaders in the interview process; incorporated essays into the process (one question specifically on DEI issues) and the interviewees went through implicit bias training. Specific recruitment, hiring and training for RAs places in LLCs and gender inclusive floors.
Gender Inclusive Housing – the GIH program continues to expand and grow, in collaboration with the GSCC and LBGTQAI+ student groups.
More Gender Inclusive Restrooms – REHS works in collaboration with institutional partners in moving forward the campus wide plan to have gender inclusive restrooms across campus.
New Reflection Rooms in the residence halls – Reflection rooms in each neighborhood have been designated to accommodate prayer and reflection.
New Meeting spaces for BSA and transcend in Shaw Hall – rooms have been renovated to meet the needs of minoritized student communities.
New REHS Dashboard – a new DEI web-based dashboard will launch in Spring 2022 to provide DEI resources with the campus community and provide progress updates on DEI projects and initiatives.
New 2022 Student DEI Activism and Inclusive Leadership Conference – this learning initiative will involve REHS working in collaboration with minoritized student leaders in creating a space for best practices on student leadership and activism will be featured – April 2022.
Violence Free Community Committee – the REHS DEI unit supports this initiative by co-chairing this committee with POE.
* * *
Led by the Office of Cultural & Academic Transitions, the Thanksgiving Unity Dinner (formerly known as Homiesgiving) is an annual event that brings together the MSU community in celebration of the Thanksgiving holiday completed. This event is a collaboration of many campus partners and would not be possible without their support. The event served over 560 meals. [Read more in the 2021 report]
* * *
Chaired by Dr. Ashley Green, assistant dean for Administration and Director for Diversity, Equity and Inclusion, International Studies and Programs
Charged by Steven Hanson, associate provost and dean for International Studies and Programs, the Global DEI Task Force will develop resources that reinforce inclusive practices in a global context. The aim is to ensure that procedures, policies, practices, and programs are in place to support an educational, equitable, inclusive, and welcoming environment for all with a specific lens on nuances related to internationalization. View listing of task force members.
Webinar Series – Global Inclusive Language & Images:
November 30, 2021: An Introduction
What is globally inclusive language and why is it important? The first webinar in the series focused on how language and images are perceived in a global context and the need for an intentional shift toward communications that de-center the U.S. perspective and celebrate our Global Spartan community. VIDEO RECORDING
Information on additional webinar series can be found at Global DEI Webinar Series.
* * *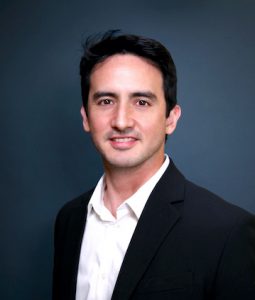 Henry Mochida Inaugural DEI communications manager shares background and insight into the role.
Henry Mochida (he/him) is the diversity, equity and inclusion communications manager in University Communications at Michigan State University. He works with the Office for Inclusion and Intercultural Initiatives and the Vice President and Chief Diversity Officer Jabbar R. Bennett, Ph.D., to further DEI as an institutional priority.
I am a fifth-generation (Gosei) Japanese-American born and raised in Hawaiʻi. My family's relatives came to the Big Island as sugar cane plantation workers in the late 1800s. After growing up on ʻOahu and honing my community-based storytelling approach with Native Hawaiian groups and internationally, in East and South East Asia, I moved to the continent for an opportunity in Michigan where my partner and I are raising our children.
My upbringing as a hapa or half-white and half-Japanese person during the revival of the Hawaiian language following its erasure has shaped how I approach communications. In Hawaiʻi, we distinguish between a local resident, or kamaʻāina, and a Native Hawaiian or kanaka maoli. Therefore, if you were to refer to me as a "Hawaiian," my response would be that I am not Hawaiian but a settler-migrant. [Read more here]
* * *
Violence Free Communities (VFC)
What is the "Violence Free Communities?"
The VFC is a space for practitioners to share and discuss strategies for eliminating violence from our communities. Started in 2004, the VFC began as a platform for campus community members experiencing RVSM. Now, it has expanded its definition of violence "to be inclusive of all forms of violence that MSU community members may be experiencing." The 2021-2022 committee is Cochaired by Matea Čaluk, assistant director, Prevention, Outreach & Education Department and Jessica Packard, campus equity navigator, Office for Civil Rights and Title IX.
Meetings are via Zoom once per month. If interested in attending or for more information, contact Matea (poe.mateacaluk@msu.edu) or Dreux Baker (bakerdre@msu.edu).
What are some VFC moments of pride?