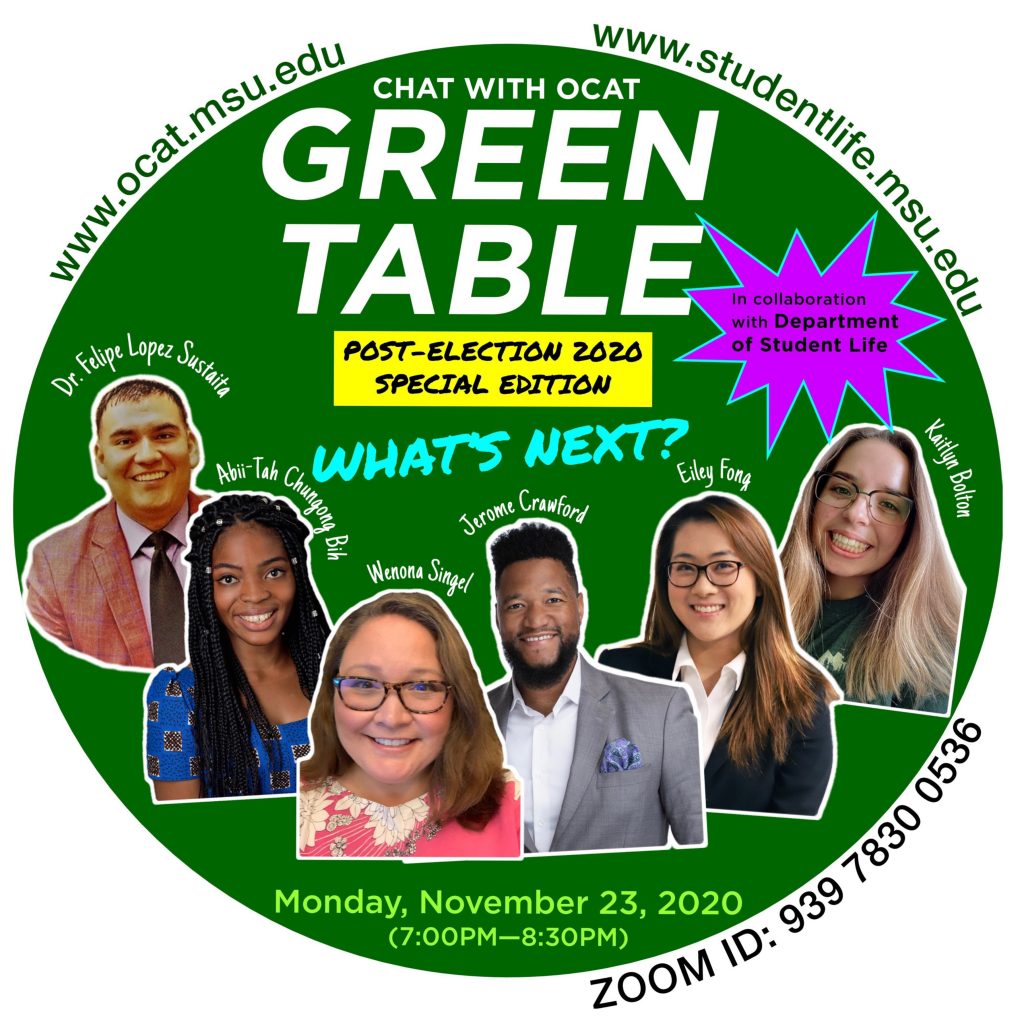 What's Next?: Post-Election 2020

Our outstanding panelists will engage in informal dialogue about the impact of the 2020 election results as it relates to their life, family, and community. All political affiliations are invited to join in this discussion. Civil and respectful debate about the outcome of the election is welcomed and encouraged by all participants. View recorded video here.
---
OCAT's Green Table Video Archive
Green Table #2 "Your Struggle Is My Struggle?"
Green Table #3 "Building Solidarity Through Heritage While Navigating The College Experience"
---
Panelist Bios
Felipe Lopez Sustaita, Ed. D., MSW
Dr. Felipe Lopez Sustaita is the Executive Director of the Hispanic Latino Commission of Michigan. He is the youngest of eight siblings. He is an immigrant who worked as a migrant farmworker in Texas, Tennessee, Georgia, and Michigan with his family since he can remember until he started college in 2001. Felipe picked oranges, grapefruit, onions, strawberries, asparagus, squash, blueberries, peaches, pears, tomatoes, peppers, and apples. Felipe continues to go back to work in the fields a few times a year to show his four sons the value of hard work and also to keep himself grounded. Felipe earned a Bachelor of Arts in Criminal Justice in 2005 and a Master of Social Work in 2007, both degrees from Michigan State University. In May of 2014, he completed his Doctorate in Education with a specialization in Community College Leadership from Ferris State University. Felipe is very passionate about higher education, as he knows that higher education is a pathway out of poverty. He is married to Danielle M. Flores Lopez and has four sons: Felipe, Amancio, Sion, and Eladio.
Abii-Tah Chungong Bih
Abii-Tah Chungong Bih is a James Madison College Senior with a double major in international relations and comparative cultures and politics. She is an international student MasterCard Foundation Scholar from Cameroon and this year, she serves as the undergraduate student body president. Before Abii-Tah left her home country of Cameroon to join the Spartan nation, she already knew that she wanted to find purpose in serving and empowering the MSU student body through ASMSU. In the last few years, Abii-Tah has dedicated every ounce of her strength to make every day at MSU worth it for all Spartans. As President of ASMSU, Abii-Tah serves as the Chief Executive Officer of the 2 million dollar organization – one of the largest student governments in the United States of America. Abii-Tah is also the primary delegate and spokesperson of the student body to the University Administration as well as local, state and federal government officials. In addition, Abii-Tah is the chief administrative officer and the chairperson of the ASMSU General Assembly. Abii-Tah's fervor for serving students is only matched by her dedication to construct a safe and inclusive MSU community where every student is confident that they are indispensable to the university. It is common knowledge that Spartans cannot wait for change so Abii-Tah hopes to empower each student to champion the construction of their vision for their university. As ASMSU president therefore, Abii-Tah is convicted to enable a wholesome student body that empowers each other, enacts history together, and chooses to leave nobody behind in the policy creation process. In addition to her work with ASMSU she has been selected to represent Michigan State University as a Global Rhodes Scholar nominee and semi-finalist.
Wenona Singel
Wenona Singel is Deputy Legal Counsel and Advisor for Tribal Affairs for Governor Gretchen Whitmer. While working for the Governor's Office, Wenona is on leave from her position as Associate Professor of Law and Associate Director of the Indigenous Law & Policy Center at Michigan State University College of Law in East Lansing, Michigan. At MSU, Wenona teaches and publishes in the areas of Property; Federal Indian Law; and Natural Resources Law. She is a member of the American Law Institute and a Reporter for the Restatement of the Law of American Indians. She also received an appointment by President Barack Obama to the Board of the Saint Lawrence Seaway Development Corporation, a position she occupied for five years. She received an A.B. from Harvard College and a J.D. from Harvard Law School. Wenona is a member of the Little Traverse Bay Bands of Odawa Indians, and she is married to Matthew Fletcher, with whom she has two sons named Owen and Emmett.
Jerome Crawford
As part of his service to the bar, Jerome is a Past President of the Wolverine Bar Association & Foundation and a current Executive Council Member of the State Bar of Michigan Young Lawyers Sections. Further in the SBM arena, Jerome was a member of the Diversity and Inclusion Advisory and Character and Fitness (District I) Committees for years. Recently, he participated on a committee of SBM's 21st Century Practice Task Force. On a national level, he most recently served as Co-Chair for the Men of Color Project Team of the Young Lawyers Division of the American Bar Association and is now District Representative to the ABA YLD for the entire state of Michigan. He is former Vice-Chair of both the ABA YLD's Affiliate Assistance Team and Forum on Entertainment and Sports Industries. Today, he is a member of both the ABA YLD's Long Range Planning and Membership Boards.
A native Detroiter, he spent his entire educational tenure in the state of Michigan, attending Michigan State University for both undergrad and law school. During law school, Jerome served in numerous roles including, notably, as Executive Director of the trial side of Moot Court and Trial Advocacy Board and Vice President of the Black Law Student Association for two consecutive terms
Eiley Fong
Eiley is the Communications Associate for OCA – Asian Pacific American Advocates. She handles the digital and print media for OCA including all social media, press releases, newsletters to OCA members, the IMAGE magazine, and print collateral for various programming. Before coming to OCA, she worked in the Michigan House of Representatives and the Michigan State Senate serving constituents from a variety of communities. Eiley graduated from Michigan State University, double majoring in International Relations and Comparative Cultures & Politics, with minors in Asian Pacific American Studies and Global Public Health. During her time at MSU, she was heavily involved with the Asian Pacific American Student Organization on campus. It's through APASO where she found the Midwest Asian American Students Union, represented APASO on the student government body, and came to Washington, D.C. as an intern for APIAVote.
Kaitlyn Bolton
Kaitlyn Bolton is a sophomore at Michigan State University. She is out of state student originally from Virginia, but she knew all her life I knew that she was going to be a Spartan one day. Currently, she is pursing a degree in Genomics & Molecular Genetics and is hoping to either double major or at least minor in Spanish. Her freshmen year at MSU she found the Residence Halls Association and fell in love with the organization and people in it. Somehow throughout the year, she left a good impression on her peers enough for them to elect her as the Vice President of the organization which soon after led to her becoming the President of the organization.
Our outstanding panelists will engage in informal dialogue about the impact of the 2020 election results as it relates to their life, family, and community. All political affiliations are invited to join in this discussion. Civil and respectful debate about the outcome of the election is welcomed and encouraged by all participants.
---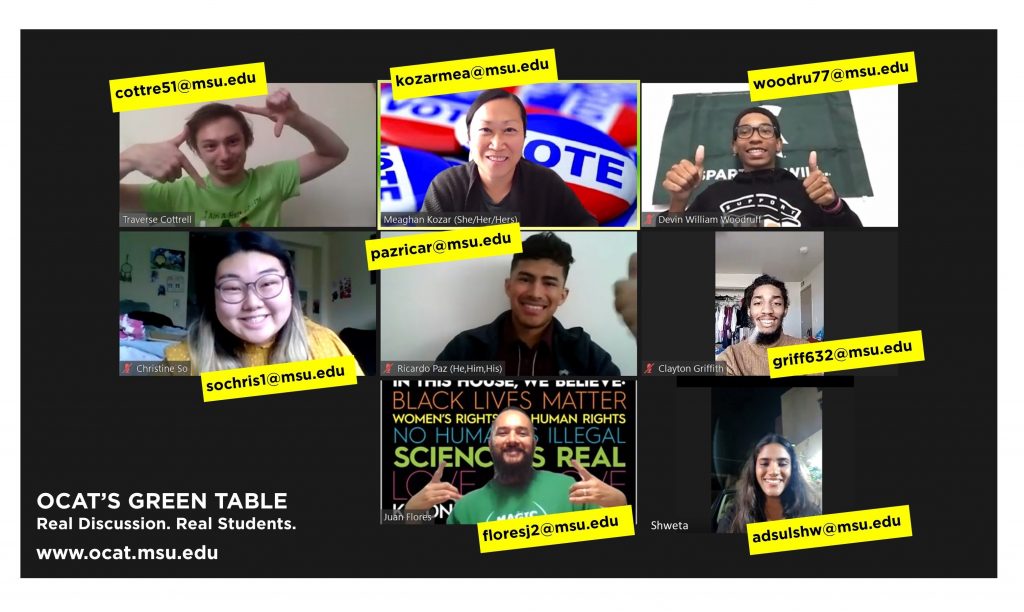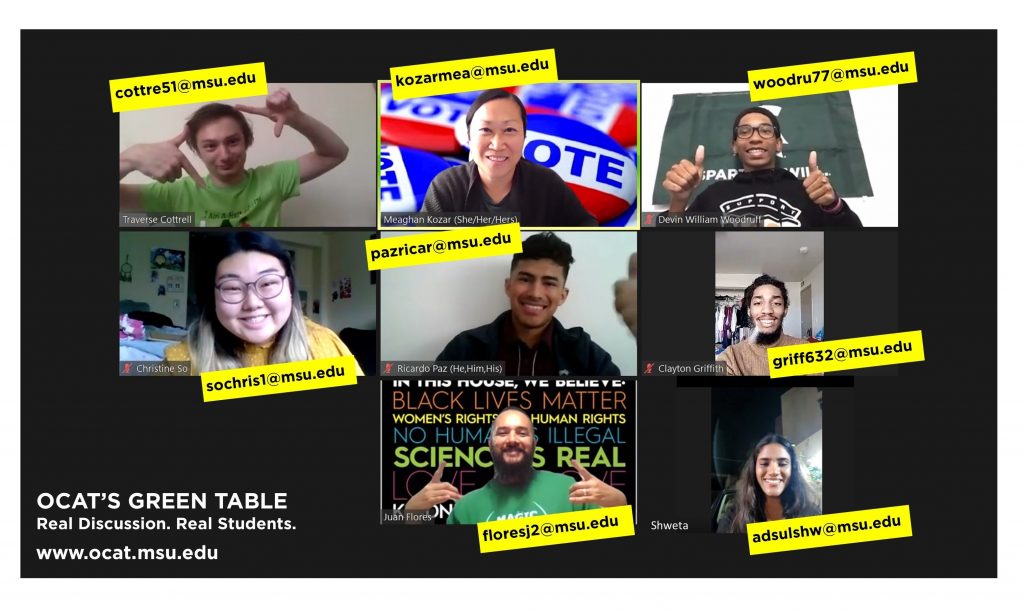 What is OCAT's GREEN TABLE?
OCAT's GREEN TABLE: Real Discussion. Real Students. is inspired by Jada Pinkett Smith's Red Table Talk that "tackle[s] current social and cultural issues with an inter-generational perspective." Similarly, OCAT's Green Table is a space where MSU students can engage in topics that matter to them. Join us to listen and learn from campus leaders who share their point of view on what is happening around the world and how it is impacting their lives, their organizations, and communities.
---
OCAT's Green Table Archive