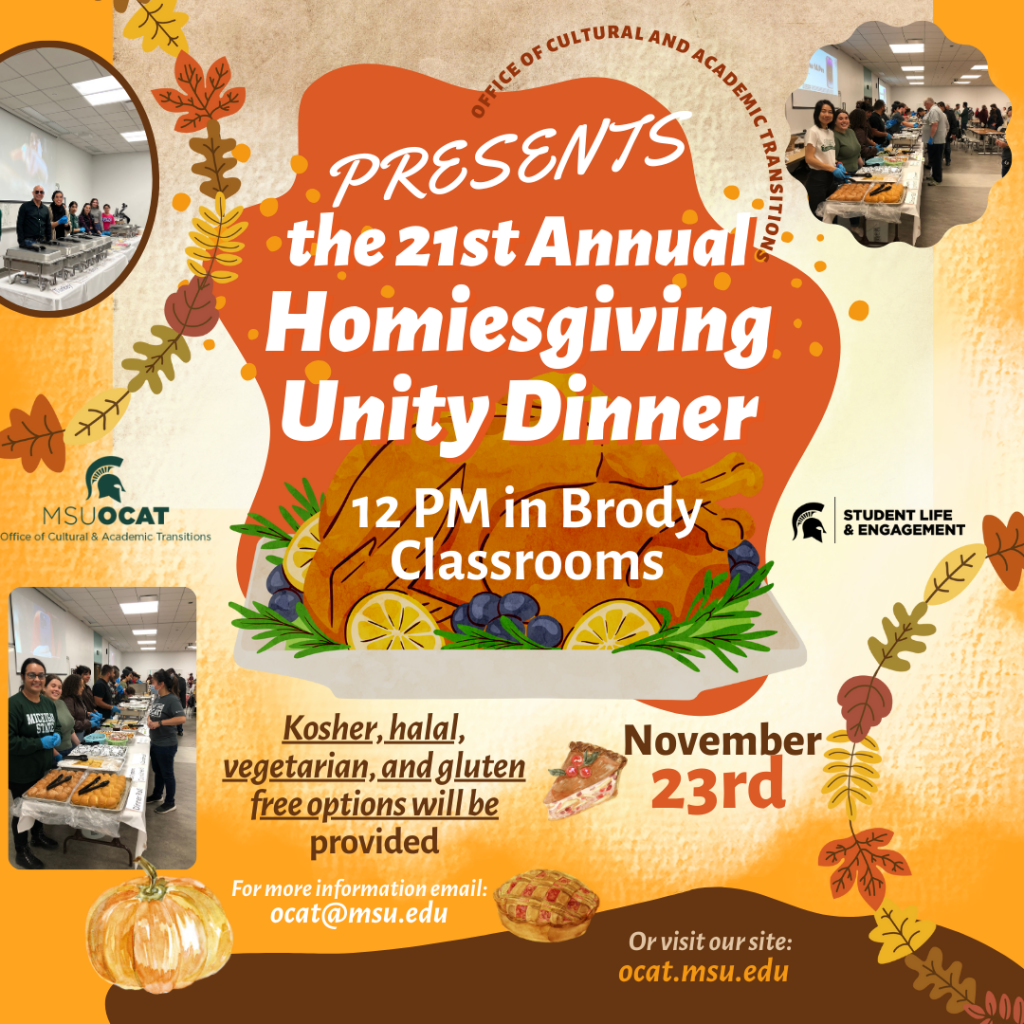 Homies Unity Dinner
Join your MSU community for an Unity fellowship dinner. If you or someone you know will be at Michigan State University this holiday break, we invite you to receive a warm meal.
This event is for MSU students so please help us make sure no student goes without a warm meal this holiday break!
---
Thursday, November 23, 2023
12:00 p.m. – 2:00 p.m.
Brody Classrooms (241 Brody W., East Lansing, MI 48824)
---
Thanksgiving Unity Dinner History
Traditionally during the Thanksgiving holiday, Michigan State University's students and college students all over the state and country travel home to enjoy a festive Thanksgiving holiday weekend with friends and family. Some students do so with friends from out of state or other countries, but hundreds stay on campus for various reasons. According to our assessment of participants, some cannot afford to go home, some choose to stay and study, while others cannot afford to miss work. Many of these students need a meal and could greatly benefit from the support of their institution by receiving a meal to celebrate Thanksgiving and fellowship with one another.
This annual Dinner provides a free thanksgiving meal to students who remain on campus during Thanksgiving Day. In the fall of 2003, Felipe Lopez, a CAMP Scholar who at the time served as an Aide for our OCAT office recognized this need for a group of students living in the halls. He developed a small program CALLED HOMIES GIVING to help these students eat a Thanksgiving meal. At its first occurrence, approximately 30 students participated and over the years attendance grew exponentially. This meal has been offered every year since its inception and it would not have been possible without the support of the School of Social Work and Migrant Student Services in the early years. The Unity Dinner is now an initiative in OCAT and will be offered every year.
View Photos from 2019 Thanksgiving Unity Dinner Here.
View Photos from 2018 Thanksgiving Unity Dinner Here.