The Success Series is a motivational and support series for MSU students that features the dynamic one-of-a-kind motivational speaker Dr. Eric Thomas (aka the Hip-Hop Preacher). These sessions are every Monday (during MSU's academic year) at 7:00PM and feature a powerful message by ET on topics such as "refocusing," "who's on my team?" "self-esteem," and much much more! Each session also features a Q&A portion with ET. This is the BEST 60 mins of the week!!! This event is FREE & OPEN to the public.
Zoom ID: ocatmsu
Password: ocat
Spring Speaker Line-up
Monday, April 12th (7:00pm-8:00pm EDT) features Jemal King
Jemal has created 4 multi-million dollar companies while still maintaining his position as a full-time Chicago Police Officer, devoted husband, father, and newest member of the world's number one personal development brand, Eric Thomas and Associates. Jemal's colleagues have appropriately nicknamed him "The 9-5 Millionaire." His unique story of the millionaire's mindset and creating generational wealth has inspired thousands and will no doubt inspire millions.
Monday, April 19th (7:00pm-8:00pm EDT) features Brandon Burns
Brandon Burns is a lifelong coach with experience in education, business, and athletics. He has worked with a wide range of individuals including CEO's, award-winning artists, and NCAA & junior athletes. These various coaching experiences have helped him truly understand what it takes to impact through education. After graduating from the University of Michigan with a double major in economics and psychology, Brandon joined the Eric Thomas & Associates team in an effort to help other leaders maximize their impact.
Monday, April 26th (7:00pm-8:00pm EDT) features Willie Moore
As a nationally syndicated Radio host, Speaker, and best-selling Author, Willie Moore Jr. has proven that innate charisma, abundant creativity, and a passion for empowerment can translate in the faith-based community and the general market.
Through his online ministry, entertainment, and comedy, Willie Moore Jr. continues to tour the world bringing inspiration through his innovative story-telling and comedic approach to speaking and music that's transforming lives throughout all generations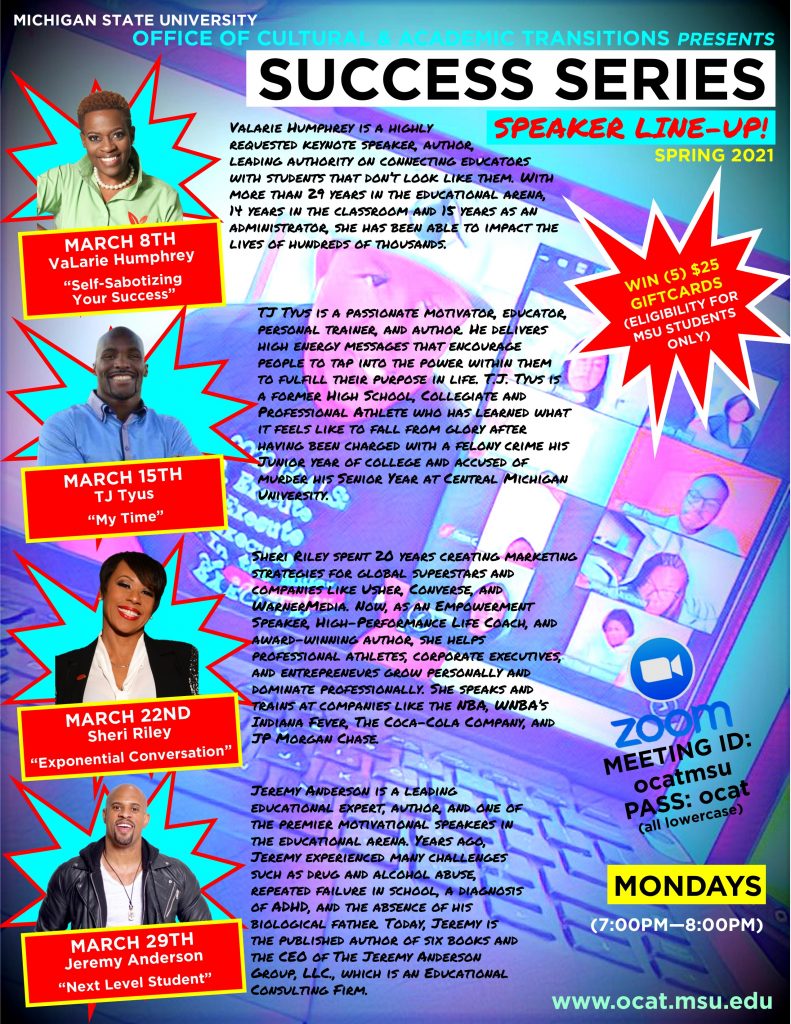 Email ocat@msu.edu or call (517) 353-7745 with questions.Erickson, Kiva (620 Farm Ln., Room 103 East Lansing, MI 48824)
---
WHAT ARE STUDENTS & STAFF SAYING ABOUT THE SUCCESS SERIES?
(click photos below)