Save the Date for the 14th Annual Spartan Remix 2021
Thursday, September 9, 2021 @ People's Park
(Behind International Center, Wells Hall, Erickson Hall)
Spartan Remix is MSU's Annual Multicultural Welcome Festival that takes place each fall on the Thursday after Labor Day. This unique event is a celebration of art, music, and culture where diverse communities come together in celebration, education and pride of their communities. The Office of Cultural & Academic Transitions coordinates the event with a diverse group of students who volunteer to be part of the Spartan Remix Planning Committee. Join this year's virtual event on Thursday, September 9th. For more information visit www.ocat.msu.edu. For more information, contact OCAT ocat@msu.edu. or spartanremixofmsu@gmail.com.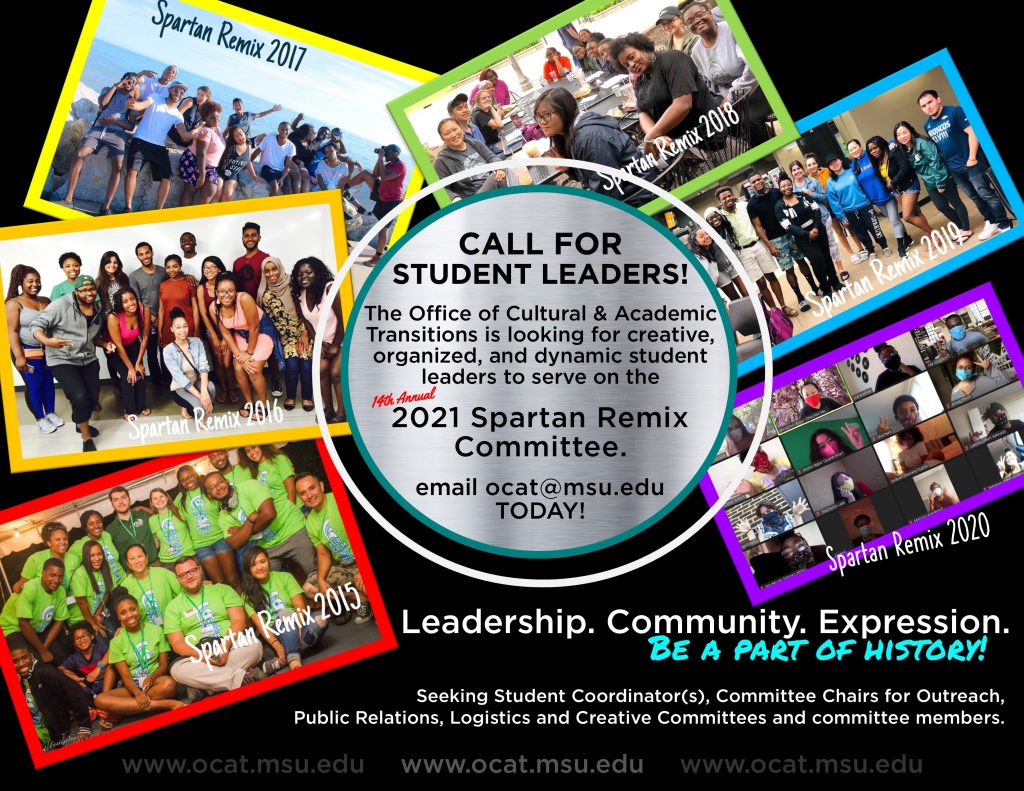 CALL FOR STUDENT LEADERS
The Office of Cultural & Academic Transitions is looking for creative, organized, and dynamic student leaders to serve of the 14th Annual Spartan Remix Planning Committee. Seeking Student Coordinator(s), Committee Chairs for Outreach, Public Relations, Logistics, and Creative Committees and committee members.
Email ocat@msu.edu today
---
Multicultural Student Organizations, Performances, Art Contest and more!
---
"Envision 2020: The Future We Create"
"Envision 2020: The Future We Create: is a theme inspired by the perception of 2020 as the year of radical change. As we indulge in these changes, we seek to amplify the voices of different communities who have been silenced in our society. Given recent events and experiences, Spartan Remix 2020 wants to demonstrate that although we come from various backgrounds, together, we can form a picture of unity. As a space that celebrates culturally diverse ideas of multiple racial and ethnic backgrounds, whether that be through art, music, dance, and more, we pronounce this event as an outlet to restore hope and inclusion for our MSU community. This is the year for our voices to be remembered by future generations!
---
2019
---
2018
---
2017

Click the image above the Spartan Remix 2017 Recap Video!
"Infinite Harmonies"
View SPARTAN REMIX 2014 RECAP HERE!
(Promo trailer)

---
2013
"Our Beats Meet"
View Spartan Remix PHOTOS here!
(Promo trailer)
 
(Greek Unity Stroll)
---

"What's Your Ink?"
(Promo Video by JR Galactic)