OCAT works collaboratively with APASO (Asian Pacific American Student Organization), the Asian Pacific American Studies Program other MSU Departments to put on quality APIDA (Asian Pacific Islander Desi American) programming. For more information on these events, contact our office (ocat@msu.edu)
The Asian Pacific American Student Organization has been the voice for our fellow Asian Pacific Islander Desi American/Asian (APIDA/A) community at Michigan State University for over forty years. Founded by a group of student activists in 1982, APASO has continued its goal to advocate for the APIDA student body community on Michigan State University's campus in social, political, and academic contexts. With roots in activism, APASO strives to support an inclusive and intersectional community on MSU's campus and beyond. APASO works towards creating awareness about our vast community through programming, collaborations, and networking.
---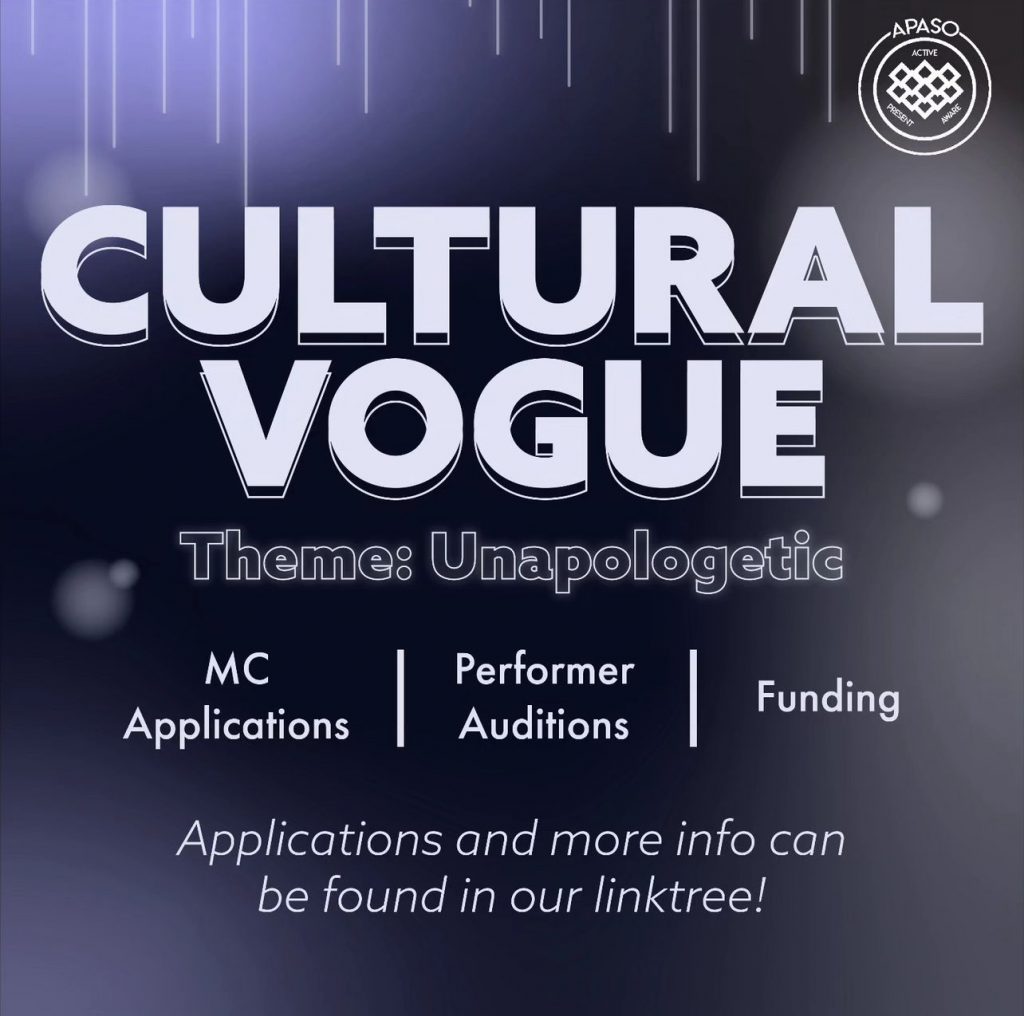 CULTURAL VOGUE FUNDING APPLICATION
CULTURAL VOGUE AUDITION APPLICATION
"APIDA/A culture has been generalized and commodified. From movies to academics and clothing to art, society has critiqued us for being too Asian and not Asian enough. Our existence has been boiled down to checkboxes and stereotypes. We do not need to apologize for who we are. It is time for the APIDA/A community to be unapologetically ourselves." – APASO

SAVE THE DATE!
The Michigan State University community is celebrating Asian Pacific Islander Desi American (APIDA) Heritage Month this year starting Wednesday, March 16 and ending Sunday, April 24.
Since the 1970s, the APIDA community has been celebrated annually in May, first as APA Heritage Week and then becoming APA Heritage Month in 1990. While the categorization has evolved over time (Asian American, Asian Pacific American, Asian American Pacific Islander, Asian American Native Hawaiian Pacific Islander) to acknowledge the pan-ethnic community, the need to celebrate and honor the community and claim its place within American society has always been centered.
Recognizing that our Michigan State community is largely not on campus in May, MSU traditionally celebrates APIDA Heritage Month from mid-March to mid-April.
This year's month-long commemoration comprises events from over 20 campus partners, including many of the APIDA student organizations on campus. Some of the events for the month include the APIDA Heritage Month Kickoff Event with Chef Jon Kung on Wednesday, March 16 at the MSU Union Ballroom & on Zoom, a Virtual Career Series featuring over 50 alumni in more than 13 professional fields, annual events such as Cultural Vogue (APASO), conversation spaces through the APA Studies Symposium and India Council events, all to close with APIDA Celebratory graduation celebration and the End-of-Year Celebration honoring APIDA student leaders, scholars and the community.
Join us as we kick off on Wednesday, March 16th from 6:30pm-8:30pm in the MSU Union Ballroom to celebrate our 2022 MSU Asian Pacific Islander Desi American (APIDA) Heritage Month. We will be providing snacks, giveaways, and more!
Our kickoff event features a cooking demo and Q&A with Chef Jon Kung (they/he), who will be joining us through Zoom.
Registration is required, and you can do so in addition to submitting any questions for Chef Jon using this form: https://bit.ly/APIDAHMKickOff.
Read more about Chef Jon below:
Jon Kung (they/he) is a rising star and self-taught chef hailing from Detroit, Michigan. A self-described "Third Culture Kid," Jon always felt he grew up with his feet firmly planted in two different worlds; the culture the country his parents immigrated from, Hong Kong, and the culture of the adoptive countries he grew up in, America and Canada. Before the Covid-19 Pandemic, the only way to experience Jon's unique cooking and personality were at one of his private dinners or dumpling classes in Detroit. But in 2020, Jon launched a TikTok account with 60 second daily cooking demos that have garnered him more than 2 million followers and tens of millions of views across his social platforms. 
 Jon's specialty is Chinese cuisine, but it isn't just about the food. It's about the art, the beauty, the culture, and family. Using food as an entry point to his distinctive world and culinary view, Jon welcomes all food lovers into his world every day. Jon has been featured in such media outlets as CNN, Vox, The Washington Post, and USA Today. 
Be sure to check out the APIDA Heritage Month Website for all the details on this month's events as well as APIDA Resources on campus! Also be sure to follow MSU APIDA Heritage Month on Instagram at @msuapidahm.
For questions, please contact Co-Chairs Anna Lin at or Jeffrey Tsang.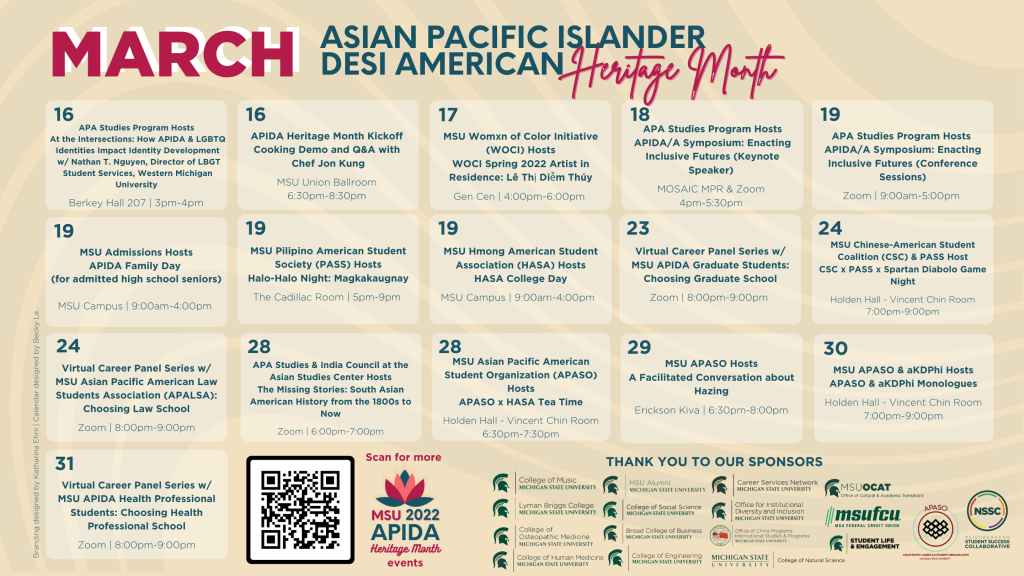 ---
ARCHIVED APIDA EVENTS
Midwest Asian American Students Union Virtual Leadership Summit Fall 2021

The Midwest Asian American Students Union Leadership Summit will take place from November 12 – 14, 2021. You can find all the event information on MAASU's Facebook Event Page. Once you register, please select "going" on the Facebook post, so you can receive the most up-to-date information on the conference. If you do not have a Facebook please follow our Instagram page at @maasu_conference.
The theme for this year is Reignite Change: An Eternal Flame. We chose this theme in light of all that has happened in 2019 and 2020. The coronavirus, social justice movements, natural disasters, and societal disruption has left the world damaged. With the approach of 2021, we are hoping to reignite the eternal flame of one's hope, spirit, and soul into a new age in our lifetimes. The meaning behind reigniting change was to encompass the idea of continuing on the sparks that have been lit during unprecedented times. Rising social movements throughout the world have been calling for fundamental change; and so, this is our chance to continue the flame that we have ignited and to stand taller than we have before.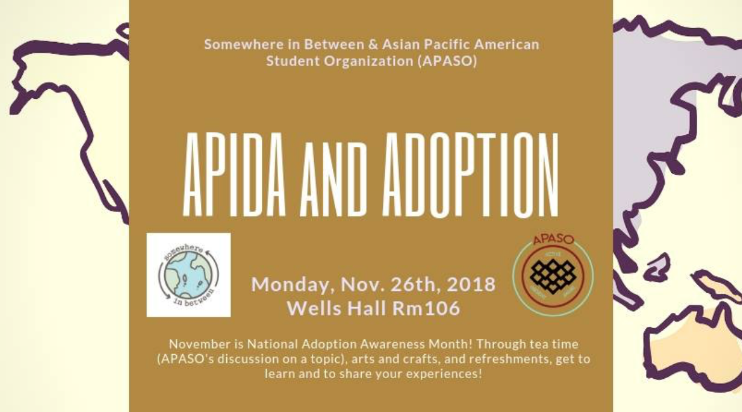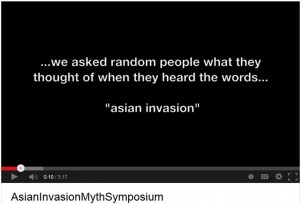 TRAILER: