What is Spartan Remix?
The annual Spartan Remix cultural celebration takes place on the Thursday after labor day at MSU's Auditorium Field. Spartan Remix is an event (unlike its kind) where diverse communities from CORES (Council of Racial and Ethnic Students) and various COPS (Council of Progressive Students) organizations come together in celebration and education of their communities with the larger MSU community. CORES is made up of BSA (Black Student Alliance), APASO (Asian Pacific American Student Organization), NAISO (North American Indigenous Student Organization) and CRU (Culturas de las Razas Unidas) and representing COPS are the Coalition of LBGT (Lesbian, Bi-sexual, Gay and Transgender) Students and ISA (International Student Association). For more information, contact OCAT (ocat@msu.edu).

LIKE our FACEBOOK PAGE and stay-up-to-date with the latest Spartan Remix happenings!

 SAVE-THE-DATE
Thursday, September 8, 2016
(6:00-9:00pm) @ MSU's Auditorium Field at the Rock
 
This year's theme "Raising Our Volumes: Break Out. Tune In. Turn Up" speaks to the possibilities when our communities come together to share a stage in celebration of art, music and culture. By amplifying our pride, our experiences, and our struggles we hope to inspire solutions.
We will close this year's Spartan Remix with a "Vigil of Solidarity" against hate crimes and injustice against our communities. We will remember, honor and heal.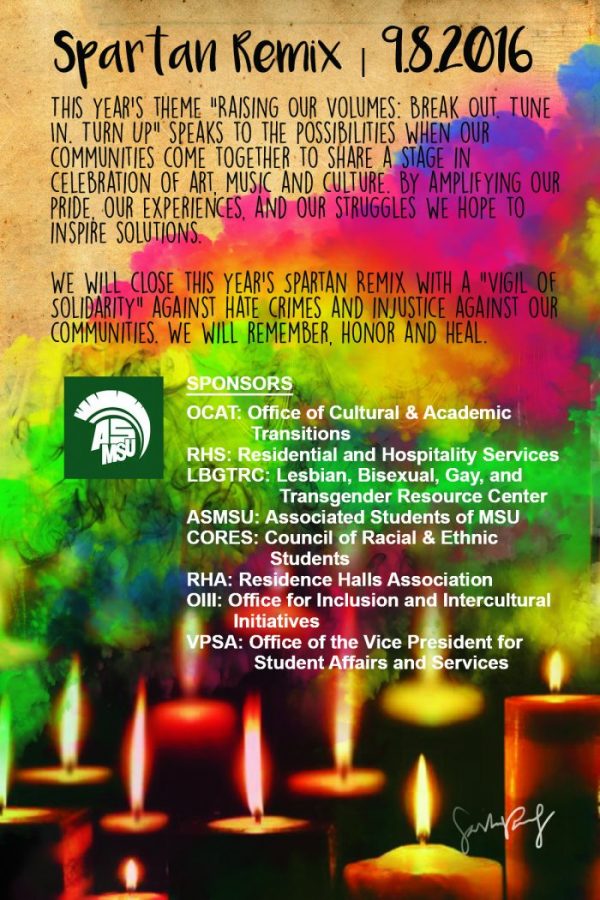 _____________________________
2015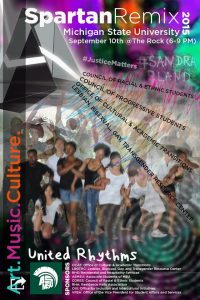 _____________________________
2014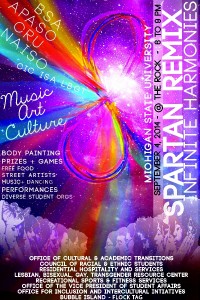 "Infinite Harmonies"
View SPARTAN REMIX 2014 RECAP HERE!
(Promo trailer)
 
_____________________________
2013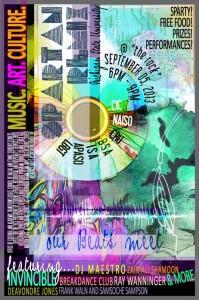 "Our Beats Meet"
View Spartan Remix PHOTOS here!
(Promo trailer)
 
(Greek Unity Stroll)
_____________________________
2012

 "What's Your Ink?" 

(Promo Video by JR Galactic)