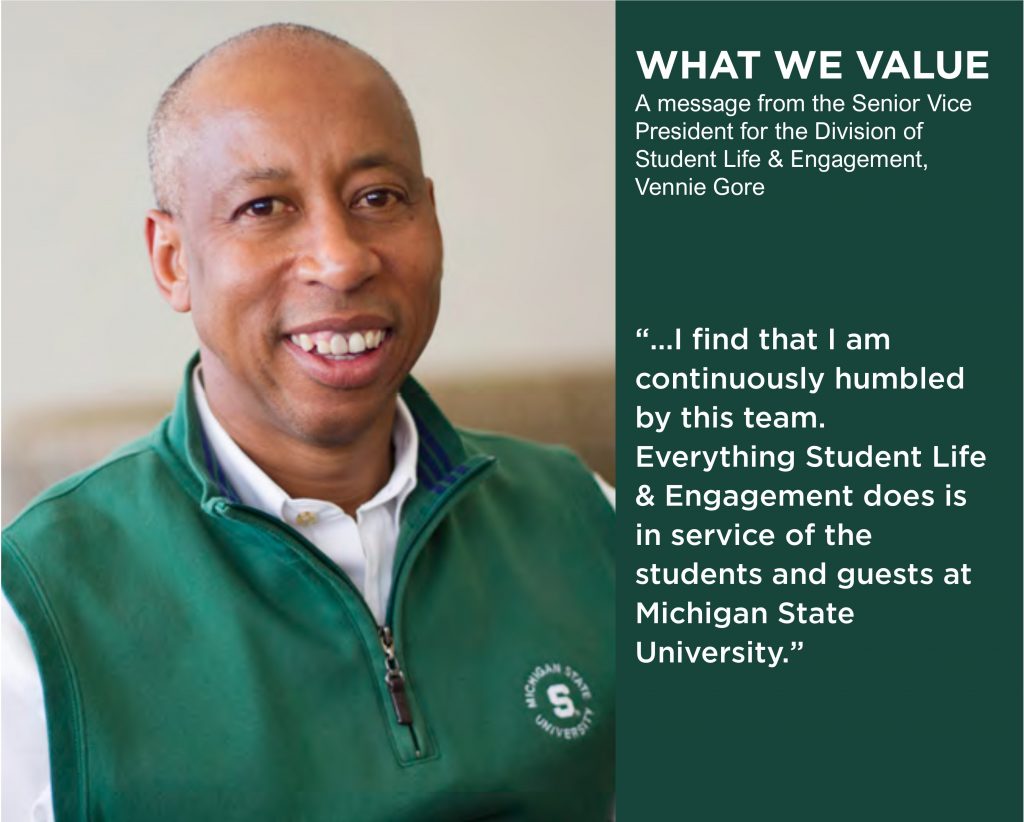 Vennie Gore is senior vice president for Student Life & Engagement. In this role, Gore administers a residence hall system with a capacity for 17,500 students; apartments with housing for 2,500 students, faculty and staff; and a culinary services program serving more than 50,000 meals daily. Additional auxiliary operations include the MSU Union, MSU Bakers, University Concessions, Sparty's coffee house and convenience stores, Starbucks coffee shops, Spartan Signature Catering, Food Stores, Spartan Linen Services, University Conference Services, the Jack Breslin Student Events Center, Forest Akers Golf Courses, the MSU Tennis Center, Kellogg Hotel and Conference Center, Cowles House presidential residence and the MSU Alumni Chapel.
Before joining MSU in 2007, Gore was associate director for housing and food services at the University of Washington. With the exception of two years as the assistant director of housing at the University of Wisconsin, Gore served in various leadership roles at the University of Washington since 1985.
A graduate of the University of South Carolina, Gore had previously served as a resident director at the University of Illinois and received his master's degree in college student personnel from Indiana University. He also has served as a member of the Bill and Melinda Gates Foundation Student Segmentation Advisory Board and currently serves on the board of directors for the Capital Area United Way.
Office of the Senior Vice President for Student Life & Engagement
550 S. Harrison Road, Room 3010D
1855 Place
517-355-7457
vgore@msu.edu