---
OCAT has a number of different job and internship opportunities available for MSU students. These paid positions include Intercultural Aides (compensated for room and board), MAGIC Peer Assistants and Work study (OCAT & MOSAIC Unity Center).
Don't forget to visit MSU's Career Services Network's Handshake for frequent job postings.
---
APPLY TO BE AN INTERCULTURAL AIDE (ICA)
So, what exactly is an intercultural aide (ICA)? 
ICAs serve as an enhancement to the work of resident assistants, or RAs. Both contribute to the building of community on the floor and in a residence hall, yet ICAs place their focus on ensuring that the communities being built are both inclusive and vibrant. ICAs work hard to engage residents in the process of "crossing difference." They do this through a series of engaged learning opportunities, including weekly roundtable discussions (RTDs), regular acts of service in local communities, social events and small-group activities, purposeful interactions with residents, and partnerships with other leaders in the campus community.
---
APPLY TO BE A RESIDENT ASSISTANT (RA)!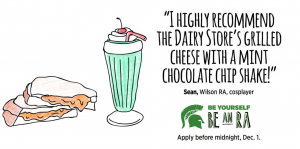 Do you want to take your leadership skills to a new level? Would you like an opportunity to help students transition to MSU and help them navigate campus resources? Would you like to save some money on room and board? If you answered yes to any of these questions, you should consider applying to be an RA!
If you want to learn more about becoming an RA, check out one of the information sessions below: 
RA Info Sessions
Monday, Nov. 4 (8:30 p.m.) – McDonel Kiva (C107)
Tuesday, Nov. 5 (8:30 p.m.) – 137 Akers
Wednesday, Nov. 6 (8:30 p.m.) – Wilson C102
Thursday, Nov. 7 (8:30 p.m.) – N105 Business College Complex
Friday, Nov. 8 (3:30 p.m.) – 134 Brody
Monday, Nov. 11 (7 p.m.) – Brody 112
Monday, Nov. 11 (7:15 p.m.) – B117 Wells 
Tuesday, Nov. 12 (7:15 p.m.) – 106 Ernst Bessey 
Wednesday, Nov. 13 (6 p.m.) – S105 South Kedzie Hall
Wednesday, Nov. 13 (7 p.m.) – C106 Holmes
Wednesday, Nov. 13 (7:15 p.m.) – McDonel Kiva (C107)
Friday, Nov. 15 (3:30 p.m.) – C202 Snyder
Resident Assistant Position Description 
Application Requirements and Conditions of Eligiblity 
RA Application here – Open until December 7th
---
APPLY TO BE AN MSU TOUR GUIDE!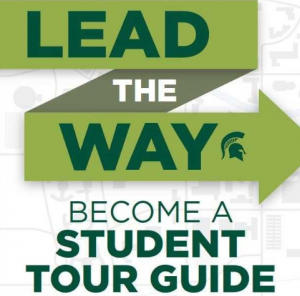 The MSU Tour Program is looking to hire energetic and talented Spartans to join our 120 person team.
Description: As part of the MSU Tour Guide team, you will lead prospective students, parents, families, visitors and alumni on walking or bus tours of MSU's campus, as well as lead neighborhood and residence hall/apartment tours. MSU Tour Guides share their unique Spartan Stories on every tour, and are friendly, outgoing, knowledgeable, and passionate about all aspects of MSU. Their passion demonstrates that MSU is a place people love to be, and help show what it is like to be an MSU Spartan. Tour Guides are the face of MSU, and take pride in delivering an outstanding Spartan experience to their guests.
Required Qualifications:
Enrolled as a student at Michigan State University (during academic year)
Demonstrated commitment to outstanding customer service
Great communication skills (written and verbal)
Positive and respectful, especially when working with a diverse population
Able to stand for long periods of time
Key Skills You Would Grow:
Communication & Public Speaking
Decision Making & Problem Solving
Customer Service
Diversity Awareness & Respect
Teamwork & Cooperation
Leadership
Pay & Hours:
Most MSU tours happen between 9a – 4p Mon – Saturday
Some night & weekend tours/events can occur
Flexible, variable, shifts available year round; compatible with other campus jobs or club involvement
Guaranteed breaks: Finals weeks, spring break, winter break, and home football game days OFF
Starts at $9.25 per hour, supervisor positions and advancement available.
Training Opportunities: Robust training and support is part of the Tour Guide Experience
Fall: four days in late August
Spring: two days in early January
Mandatory monthly meetings Sunday nights
Leadership Opportunities:
Student supervisor positions are available for talented students interested in taking a leadership role. The MSU Tour Program relies on student supervisors to assess, recruit, train, schedule, secure, and run daily operations of the tour program.
Click here to apply and search "Tour Guide".
---
APPLY WITH MSU CONCESSIONS:
MSU Concessions offers MSU students a wide variety of fun positions, flexible schedules and an exciting work environment. Benefits include: great pay, free meals during events, training and advancement opportunities, great location (work close to where you live!). Inquire about internship credit opportunities. Contact (517) 353-2005 or email concessionscshr@rhs.msu.edu Monday-Friday (8-5pm).
Visit website for more information.
---
APPLY WITH MSU NSSC: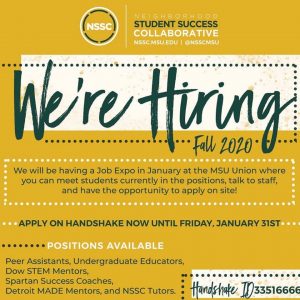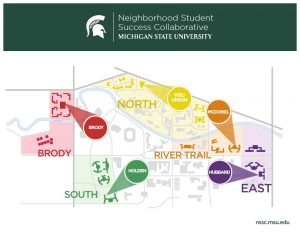 The Neighborhood Student Success Collaborative (NSSC) is committed to empowering all undergraduate students to pursue knowledge, access resources, and develop skills needed for intellectual, social, local, and global success.
---