Following the announcement made by Michigan State University's Provost that all summer classes, academic and pre-college programs will be completed online, the Office of Cultural & Academic Transitions is announcing that our summer MAGIC 2020 program will similarly be moved to virtual learning. In addition, OCAT is hopeful that we will be able to offer a shortened in-person version of MAGIC that will take place in late August. We will provide more updates on this restructuring as soon as we can.
Unfortunately, because of this new structure, OCAT will not be hiring MAGIC Peer Assistants for summer 2020.
If you have any questions or concerns, please visit us at www.ocat.msu.edu or email ocat@msu.edu.
Stay Safe!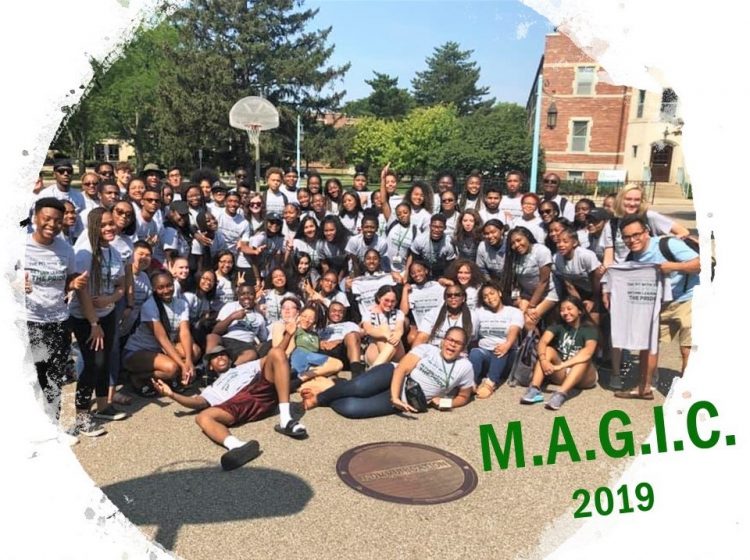 APPLICATIONS for summer 2020 NOW Available!
What is MAGIC?
Maximizing Academic Growth In College or MAGIC is a summer transition program for incoming MSU freshmen. This one-week program is offered twice in the summer during July. Students will be introduced to campus resources, network with MSU faculty/staff, meet life-long friends ALL before the first day of school! When students return to campus (about a month later), they are ready and prepared for the academic rigors of college life. The MAGIC program aims to prepare incoming students with the MAGIC CONFIDENCE needed to succeed in college!
This program is FREE with the exception of an early $50 registration fee. (Late registration is $75 between May 30-June 29, 2020)
Summer 2020 will be our 24th year of MAGIC!!
Program dates for summer 2020 are:
Week One is July 12-17, 2020
Week Two is July 19-24, 2020
---
MAGIC PARTICIPANT 2020 APPLICATION Information:
You can now register online!
or
PAPER APPLICATION INSTRUCTIONS:
Download MAGIC 2020 application and save to your computer desktop. You can type directly into this pdf but you must first download and save to your computer desktop. We prefer typewritten applications.
Complete application in its entirety (Two pages, Health Insurance Form, $50 check for registration fee)
Look for an email confirmation from someone in the OCAT staff that you are either accepted or placed on our wait list. Check your MSU email within 7-10 business days of submitting your application.
Review our MAGIC FAQs 2020.
If you have any questions and/or concerns, please do not hesitate to contact us at (517) 353-7745 or email at ocat@msu.edu.
---
MORE ABOUT MAGIC: