NORTH AMERICAN INDIGENOUS STUDENT ORGANIZATION (NAISO)
NAISO provides a strong, diverse atmosphere that encourages the enlightenment of Native culture, personal development & academic achievement as well as promote political & social awareness within the greater community.
Connect with NAISO: NAISO has a facebook "like" page where we advertise our meeting dates for the semester, upcoming events with NAISO and/or the larger MSU Indigenous community. Please click the link to stay connected to NAISO. We also email notices to students, if you would like to get on the student list serve, please email Emily Sorroche: sorroche@msu.edu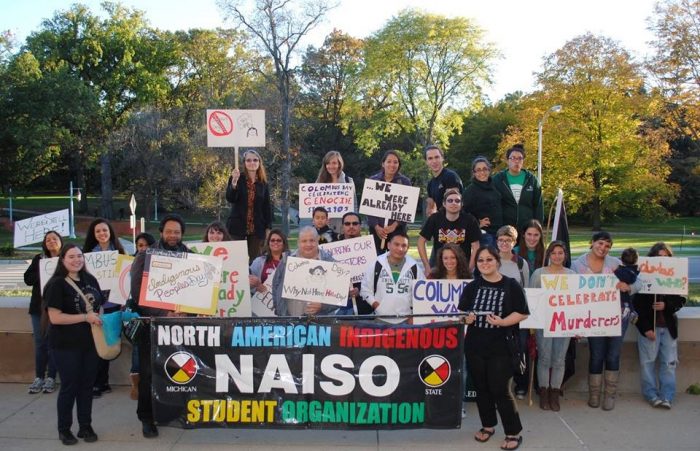 Land Acknowledgement
"We collectively acknowledge that Michigan State University occupies the ancestral, traditional, and contemporary Lands of the Anishinaabeg – Three Fires Confederacy of Ojibwe, Odawa, and Potawatomi peoples. In particular, the University resides on Land ceded in the 1819 Treaty of Saginaw. We recognize, support, and advocate for the sovereignty of Michigan's twelve federally-recognized Indian nations, for historic Indigenous communities in Michigan, for Indigenous individuals and communities who live here now, and for those who were forcibly removed from their Homelands. By offering this Land Acknowledgement, we affirm Indigenous sovereignty and will work to hold Michigan State University more accountable to the needs of American Indian and Indigenous peoples.
We respect the desire to recognize the ancestral, traditional, and contemporary stewards of the Land. However, we ask that when offering a Land Acknowledgement, remember that these Acknowledgements must be preceded by relationships with living Indigenous people, communities, and nations" (Miner, 2019).
---
Building Community, Celebrating Native/Indigenous Pride
---
Native/Indigenous Programming
---