Native & Indigenous Programming
---
More About American Indian Programming:
---
What is a pow-wow?
A pow-wow has historical, spiritual, and social value to American Indian people. They are more than social events. The pow-wow represents continuation for the friendship which has always been extended by Indians to those who have come to Turtle Island, the native name for North America. It is a time of learning and carrying on rich cultural heritage. There is a spiritual significance in the dances, songs, and customs observed, along with the preparations for the event. It is also a chance to display artistic ability with the many arts and crafts common to the Indian people. In addition to participating in the traditional dance and song, people visit with family and friend, make new acquaintances, and develop more personal relationships, the pow-wow provides an opportunity for our young to learn from our elders and carry on tradition. We offer this experience as a way to introduce our culture in hopes of breaking stereotypes. Pow-wows are held throughout the United States. Even in Michigan, you can find a pow-wow to attend almost every weekend in the summer.
Michigan State University holds their annual Pow Wow every spring of the academic year. Contact Emily Sorroche (sorroche@msu.edu) if you have questions.
36th Annual Pow Wow of Love
Saturday, February 23, 2019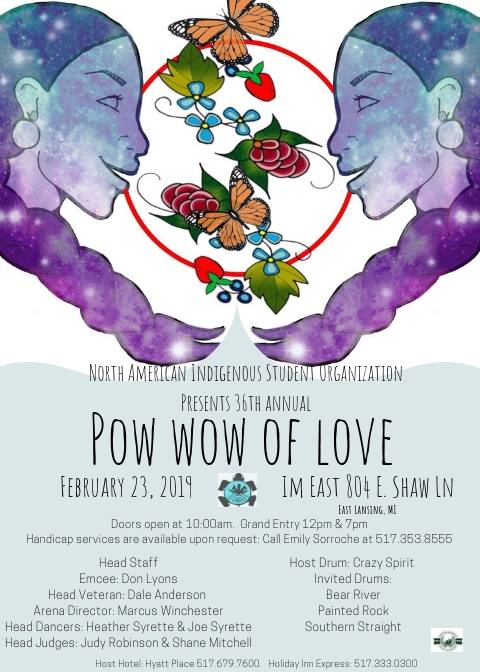 ---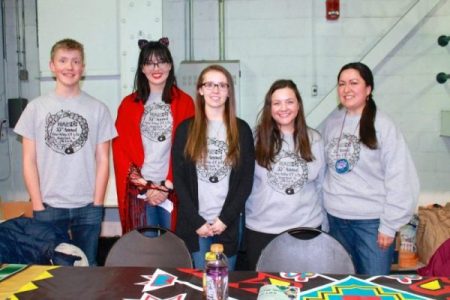 ---
Pow Wow Photos
---
Pow Wow Flyers: