Native & Indigenous Programming

NORTH AMERICAN INDIGENOUS STUDENT ORGANIZATION
NAISO provides a strong, diverse atmosphere that encourages the enlightenment of Native culture, personal development & academic achievement as well as promote political & social awareness within the greater community.
Connect with NAISO: NAISO has a facebook "like" page where we advertise our meeting dates for the semester, upcoming events with NAISO and/or the larger MSU Indigenous community. Please click the link to stay connected to NAISO. We also email notices to students, if you would like to get on the student list serve, please email Emily Sorroche: sorroche@msu.edu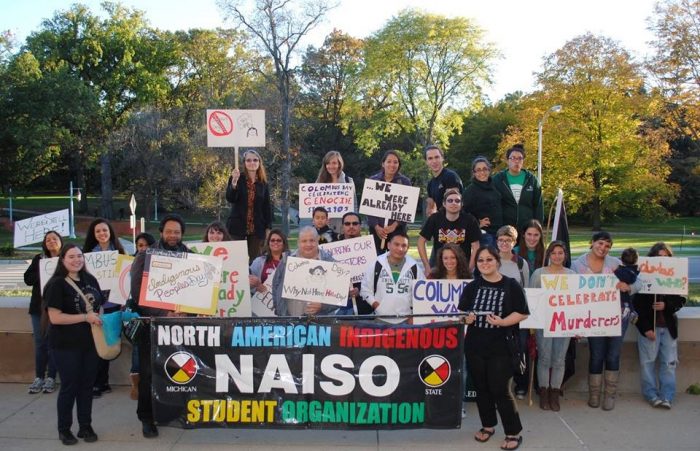 The NAISO symbol was created by a NAISO alumni, who graduated in 2006 from MSU. His name is Devon Kuanquaftewa.
---
NATIVE AMERICAN HERITAGE MONTH
"We celebrate Native American Heritage Month in November to recognize the achievements and contributions of Native Americans. In 1990 President George H. W. Bush approved a joint resolution designating November 1990 "National American Indian Heritage Month." Similar proclamations, under variants on the name (including "Native American Heritage Month" and "National American Indian and Alaska Native Heritage Month") have been issued each year since 1994." (Read more here)



---
MSU ANNUAL POW WOW
What is a Pow wow?
A pow-wow has historical, spiritual, and social value to American Indian people. They are more than social events. The pow-wow represents continuation for the friendship which has always been extended by Indians to those who have come to Turtle Island, the native name for North America. It is a time of learning and carrying on rich cultural heritage. There is a spiritual significance in the dances, songs, and customs observed, along with the preparations for the event. It is also a chance to display artistic ability with the many arts and crafts common to the Indian people. In addition to participating in the traditional dance and song, people visit with family and friend, make new acquaintances, and develop more personal relationships, the pow-wow provides an opportunity for our young to learn from our elders and carry on tradition. We offer this experience as a way to introduce our culture in hopes of breaking stereotypes. Pow-wows are held throughout the United States. Even in Michigan, you can find a pow-wow to attend almost every weekend in the summer.
Michigan State University holds their annual Pow Wow every spring of the academic year. Contact Emily Sorroche (sorroche@msu.edu) if you have questions.
36th Annual Pow Wow of Love
Saturday, February 23, 2019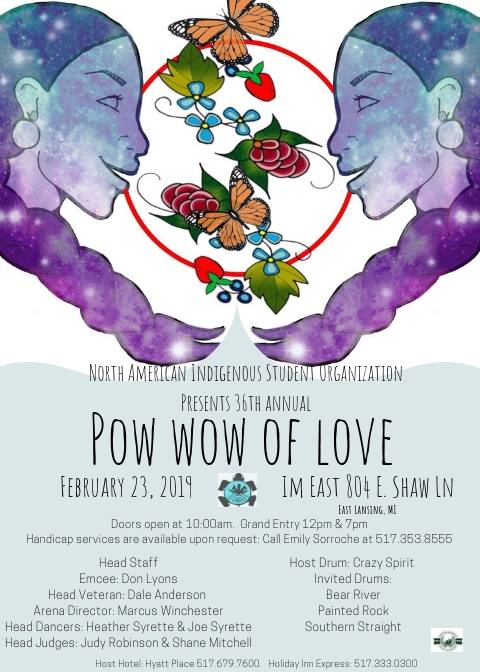 ---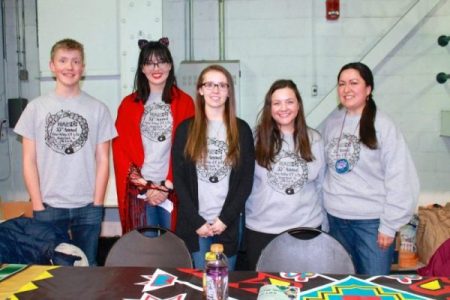 ---
Pow Wow Photos
---
Pow Wow Flyers: