---
Search different study abroad/study away opportunities. You can earn credit for some study abroad/study away programs so make sure you ask about it! Also, make sure to visit MSU's Office for Education Abroad for a complete listing of travel opportunities.
More Study Abroad opportunities offered through different colleges:
College of Agriculture & Natural Resources
College of Arts & Letters
College of Communication Arts and Sciences
Eli Broad College of Business
FUNDING your education abroad information. Visit Scholarships and Fundraising and Office of Financial Aid.
---
INTERNATIONAL ENGAGEMENT IN MEXICO (IEM) Study Abroad & Earn 3-credits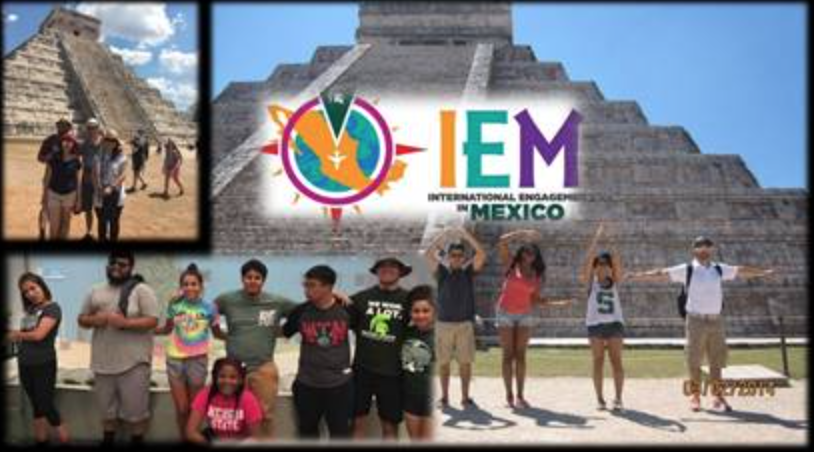 International Engagement in Mexico is an amazing college experience that students will not regret. If you need a three credit course and want to spend spring break traveling and volunteering, this program is for you! We are still accepting applications in the IEM program. This is one of MSU's most affordable programs and if you receive financial aid, it will cover some if not most of the program costs. If you have any questions and want to set up a time to talk about this opportunity, contact Juan Flores at floresj2@msu.edu.
IEM is a 3-credit course (SSC 299, which will be added to your Spring Semester schedule after you apply). The class meets 4 times before Spring Break and 2 times after. All classes are on Sunday from 6-8 pm in Holden Hall Auditorium.
In the meantime, here is the link to the Study Abroad Website: Click here! Once you get to this page, follow these steps:
In the Semester/Term box, select Spring Break, then
In the Country Box, select Mexico
Scroll down on the page and you will see the following Cities.
You will be able to choose from one of the five International Engagement in Mexico Cities, make sure to click on the links to learn about each of the cities before you select one. They are all amazing and loaded with vibrancy, history, and culture!
International Engagement in Merida, Mexico (Open to eligible MSU and non-MSU students)
International Engagement in Oaxaca, Mexico (Open to eligible MSU and non-MSU students)
International Engagement in Puebla, Mexico (Open to eligible MSU and non-MSU students)
International Engagement in Chiapas,Mexico (Open to eligible MSU an non-MSU Students)
International Engagement in Huatulco,Mexico (Open to eligible MSU and non-MSU Students)
To apply, you will need to log in with your net ID and submit your application. You will need to prepare to get your passport if you do not already have one. The MSU library has a passport office. Here is the link; https://lib.msu.edu/passport/ you will need to bring your birth certificate because you will need to send it with your passport application.
---
JMC Education Abroad & International Opportunities Fair
ALL STUDENTS ARE INVITED to the JMC Education Abroad & International Opportunities Fair which will be held on Friday, November 8, 2019 from 1:00 – 3:00 PM in Club Spartan (Case Hall). The fair will feature JMC education abroad and MSU international internship programs – come learn more about studying abroad! We will also be joined by our region's U.S. State Department Diplomat in Residence, the International TEFL Academy (teaching English abroad), and MSU Peace Corps so students (including upcoming grads) considering internships and careers in diplomacy, foreign service, or teaching English abroad should attend. The fair will be open house-style so feel free to drop by between 1:00 – 3:00 PM. All majors/colleges are welcome. Refreshments will be available.
RSVP on Handshake: msu.joinhandshake.com/events/374977
Featured Programs:
See the JMC Education Abroad Page for a complete list.
---
African Studies Center FLAS Fellowships
The African Studies Center invites applicants for the FLAS Fellowship for the Study of African Languages: Intensive African Language Summer and Academic Year. FLAS Fellowships are open to both graduate and undergraduate students, come with tuition and a stipend, and are funded by the U.S. Department of Education. The application deadline is February 14, 2020. More information, including a list of languages and cost details, can be found here.
---
Summer Abroad Fair