Definition: "Sharps are defined as needles, syringes, scalpels, and intravenous tubing with needles attached scalpels, as well as any contaminated object that can penetrate the skin such as: Pasteur pipettes, razor blades, capillary tubes, etc. regardless of whether they are contaminated or not." [Read more here]
Updates:
Several logistical reasons why REHS cannot install sharps containers at this time. Labs are different than public spaces. There needs to be proper follow-up and disposal of containers. Heavy fines in place after a strict 90 days EVEN if they are empty.
[Resolved!] Access REHS Sharps Containers Plan. REHS are working to outline the procedure for communicating to students how REHS can supply them with an individual sharp's container.
Charles Stephens, Associate Director for REHS (steph152@msu.edu) will be the point of contact for questions about sharps disposal containers at REHS.
On-going Questions:
How can we increase communications for students who may need to dispose of sharps?
1. LIVE ON created graphic images to be shared on social media.
2. Information added to LIVE ON webpage. Navigation: Homepage > Hall Life > In-Hall Health Resources.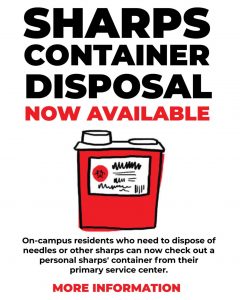 Resources