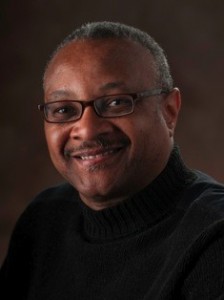 Murray Edwards, Senior Coordinator (edward12@msu.edu)
Murray Edwards has been with the Office of Cultural & Academic Transitions for over 30 years and has served in various leadership roles at Michigan State University. He began his career as a Minority Aide for the Minority Aide Program (now Intercultural Aide Program) and as a Graduate Assistant for Residence Life. He has been involved in numerous programs centered on student retention and success founding such programs as MAGIC (Maximizing Academic Growth in College), the Black Male Initiative, the FOCUS (Foundations of College Undergraduate Success) Conference and the Success Series.
---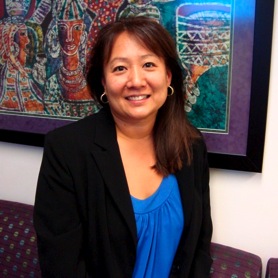 Maggie Chen Hernandez, Associate Director (chenma@msu.edu)
Maggie Chen Hernandez has been with the Office of Cultural & Academic Transitions for 26 years and has served in various leadership roles at Michigan State University for over 30 years. As an undergraduate student she was an RA for Residence Life and was one of the founding members of APASO (Asian Pacific American Student Organization). She currently is the Senior Coordinator for the Intercultural Aide Program and the Coordinator for the MOSAIC Multicultural Unity Center located on the second floor of the MSU Union building.
---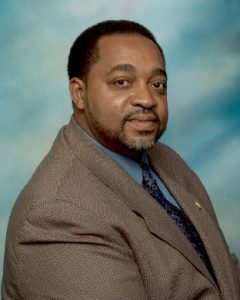 Rob Biddle, Coordinator (biddler@msu.edu)
Rob Biddle is the advisor for BSA (Black Student Alliance) and the AASMP (African American Student Mentoring Program). He also helps to coordinate many of OCAT's academic and retention initiatives including MAGIC and the FOCUS conference.

---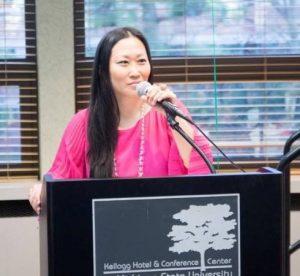 Meaghan Kozar, Ph.D., Coordinator (kozarmea@msu.edu)
Meaghan Kozar received her PhD in American Studies at Michigan State University, a Master's in English at Iowa State University and a BA in Art Education at Viterbo University. She has over twenty years of experience teaching, advising and training in Higher Education. She is the former Assistant Director of MSU's Asian Pacific American Studies Program and is a current Program Coordinator for MSU's Office of Cultural & Academic Transitions. Her areas of expertise include communications, leadership training, and program development. Her passions include empowering emerging leaders, creating spaces for expression, and bringing together diverse communities. Her responsibilities include serving as the advisor for APASO (Asian Pacific American Student Organization), coordinating OCAT's annual Spartan Remix, and promotion and publicity including website management and social media.
---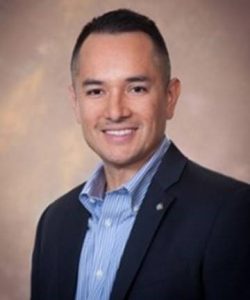 Juan Flores, Coordinator (floresj2@msu.edu)
Juan Flores Grew up in Southwest Detroit near Mexican Town and credits his success to his upbringing in Detroit. He is extremely grateful for the circumstances, times, places and environments that surrounded his coming of age because without those experiences he would not be the person he is today. He is the oldest of ten siblings and was the first in his family to graduate from high school when he crossed the stage Detroit Southwestern. Juan was an average student who had no plans to attend college after high school but by pure coincidence he met Lucinda Briones, a recruiter for Michigan State University during the fall of his senior year. Lucinda's message was so profound that it ended up altering the course of his life.  Juan was accepted to Michigan State University and earned his Bachelor's degree in Criminal Justice four years later and a Master's Degree in Clinical Social Work three years after.
Throughout his undergraduate and graduate experience at Michigan State University Juan was heavily involved in leadership and extracurricular activities that benefited the campus community. These experiences later led to the realization that his calling was to work in higher education. His passion for helping students navigate campus and figure out their career aspirations landed him his first job as an academic advisor for the College of Natural Science after graduating with his Masters. Two years later Juan accepted a Coordinator position in the Division of Student Affairs and Services Office of Cultural and Academic Transitions (OCAT). Accepting the job at OCAT was a way to give back for all the assistance and leadership opportunities he received from the office during his undergraduate years.
OCAT has provided Juan numerous opportunities to enhance the student experience in various capacities. In his OCAT role, Juan serves as a coordinator for Student Success Initiatives i.e. Intercultural Aide Program, Maximizing Academic Growth in College Transition program, Annual Día de la Mujer Conference, Latino Student Mentoring program, Annual Thanksgiving Day Unity Dinner, Leadership Institute, and Advisor to Council of Racial & Ethnic Students group Culturas de las Raza Unidas (C.R.U.) Latino Student Organization. Additionally, Juan appreciates the opportunity to have been a Co-Director and current Instructor of the International Engagement in Mexico (IEM) Education Abroad program which is one of the larges most diverse programs offered. Juan is a huge advocate for experiential learning and is honored to support students study abroad aspirations.
Aside from being committed to helping students thrive, Juan values spending time with his wife and children. He has a daughter and a son that own his heart. He enjoys speaking to youth and sharing his story to inspire people to live their dream. Furthermore, he appreciates meeting and learning from people from diverse backgrounds. His hobbies are fluid and can change any day but currently include mentoring, volunteering, traveling, DJ'ing, playing basketball, biking, speaking Spanish, and collecting die cast cars.
---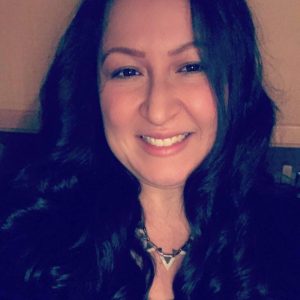 Emily Sorroche, Coordinator (sorroche@msu.edu)
Emily, a member of Haudenosaunee Confederacy with the Cayuga Tribe and of Puerto Rican heritage, originates from upstate New York. When she attended MSU, she studied Music and Social Work and graduated with her Bachelor of Arts in Social Work. Working in the MAGIC program during her undergraduate uncovered the work she would want to pursue for a career. Emily graduated from the Higher Adult and Lifelong Education (HALE) Master's program with research interests in Educational Leadership, Multiculturalism, Inclusion and Student Retention. Previous employment includes MSU Office of Admissions, G.E.A.R. UP, H.O.P.E., and Lansing Promise Scholarship emphasizing in pre-college programming.
She has served as an Academic Advisor from Neighborhood Student Success Collaborative, is currently a Co-Director of the Indigenous Youth Empowerment Program (IYEP), and is a board member of Michigan Indian Education Council. In the fall, Emily will continue her life as a student in the Educational Leadership doctoral program studying Indigenous student populations within k-12 and higher education. Her hobbies include being a fur-baby parent to her Chihuahua, Dalia, and her cat, Daizy May, spending time with family and friends – soon to be a new auntie- traveling, and cooking. She is a beginner in bead work, learning how to make earrings. She is very excited to continue working with and learning from the MSU students!
---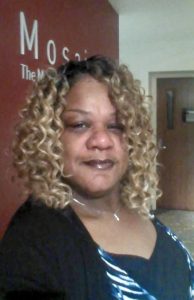 Pam McFadden, MCC Secretary (mcfadd35@msu.edu)
Pam McFadden has been with OCAT for the past nineteen years serving specifically as the MOSAIC Multicultural Unity Center Secretary. If you would like to reserve space at the MOSAIC for your department or organization she is the go to person for that!

---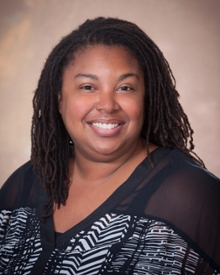 Tiffany Gridiron Toriumi , Coordinator (gridiro1@msu.edu)
Tiffany Gridiron Toriumi graduated from Michigan State University with a B.S. in Interdisciplinary Studies in Social Science in 2002.  After working in the Lansing School District for 2 years, Tiffany moved to Japan to work English Teacher in a Conversation School.  After a year and a half, she was discovered by a Sony music executive while singing at a jam session in Tokyo.  For the next 5 years, Tiffany worked as a professional jazz singer, releasing 5 CDs and performing throughout Japan and South Korea.  In March of 2011 Tiffany moved back to  Michigan and worked as a consultant for the National Resource Center for Racial Healing in Battle Creek, MI.  Tiffany has served as a supervisor in the ICA/MRULE program for 3 academic years in the East and South Neighborhoods at MSU and is now working in the Brody Neighborhood.  She is currently studying part time in the Masters in Social Work Organizations and Community Leadership Part program at MSU.
---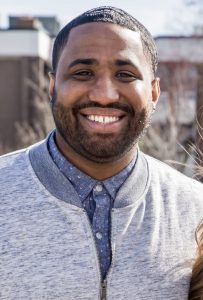 Dreux Baker, MRULE/ ICA Supervisor (bakerdre@vps.msu.edu)
Born and raised in Detroit, MI, Dreux attended Michigan State University and graduated with a BS in Medical Technology in 2009. As a student, he was an Intercultural Aide for the office in Holden from 2005-2007, as well as Holmes Hall from 2007-2008. He began his Masters of Public Health at Ohio State University, and plan on finishing it while a staff member here at MSU. While at OSU, Dreux was able to achieve a Certified Health Education Specialist (CHES), as well as a HIV/AIDS Education certificate. He really enjoys watching movies in his spare time (a self-proclaimed movie critic) and listening to informative podcasts about pop culture, politics, society, history and more. When he has time he tries to stay physically active by playing basketball a few times a week.
---
Diane Hernandez-Wojda, Budget Manager (hernan12@msu.edu)
Diane Hernandez-Wojda has been with the Office of Cultural & Academic Transitions for 18 years. She is OCAT's Budget Manager. She enjoys crafts, her kids and making jewelry.
---
Major:
Fun Fact:
---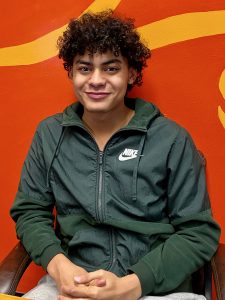 ---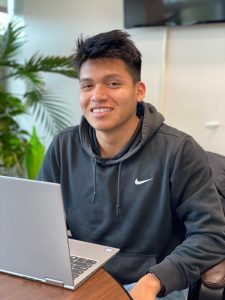 ---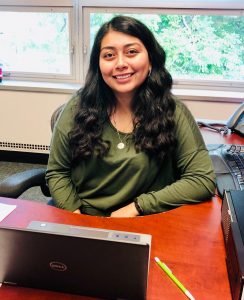 ---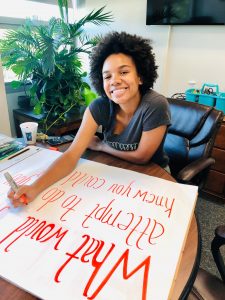 ---