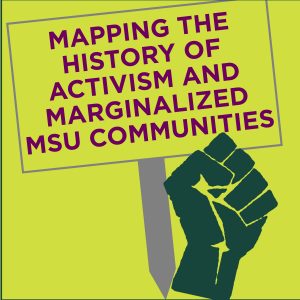 MAPPING THE HISTORY OF MARGINALIZED MSU COMMUNITIES
Project Description:
Mapping the History of Marginalized Communities is a living project that honors histories of struggle, achievements and activism of those from marginalized groups. The project seeks to gather existing stories from individuals, groups and organizations within Michigan State University. Designating it a "living project," acknowledges there are stories missing,
whether they be unknown or untold in the past, are being written or developing in the present, or are coming into being (future).
A sampling of questions that are grounding this project include:
• How do we pass on a more accurate representation of institutional knowledge?
• What are the implications if we erase the complex struggles rooted in activism faced by MSU marginalizedcommunities?
• Whose stories are we remembering?
• What is missing from MSU's history?

Multipronged project that includes, but not limited to:
• Walking tour (MSU points of interest used for educational history as well as prospective campus visits.)
• Virtual timeline that creates a richer and more accurate version of MSU histories
• Collection of resources
• Multi-media visual interactive display for the freestanding Multicultural Building
(Upload documents and information)
PROJECT CONTACTS:
Sky Flores, inclusive campus practicum graduate student • floressk@msu.edu
Meaghan Kozar, Ph.D., chair • kozarmea@msu.edu
Joy Hannibal, Ph.D., chair • hanniba2@msu.edu
Erik Ponder, chair • ponderer@msu.edu
Andrea McMillan, committee member • salaza27@msu.edu