MSU Student Affairs and Services has more than 20 scholarships available for MSU students. The deadline for most of these scholarships is March 16, 2019. For more information and to apply, visit the MSU Student Affairs and Services scholarship page
http://studentaffairs.msu.edu/scholarships/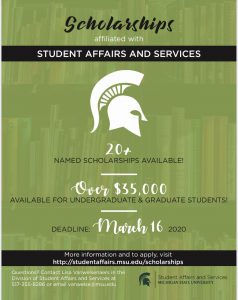 SCHOLARSHIPS AFFILIATED with Student Affairs and Services
MSU Student Affairs and Services has more than 20 scholarships available for undergraduate and graduate students. The following scholarships are affiliated with Student Affairs and Services.
Please click on the scholarships LINK to read more about the donor and the application criteria and process. The deadline to apply for most of these scholarships is 11:55 p.m. on March 16, 2020. HOWEVER, please make sure you read details of each scholarship for differences in deadline, requirements and submission processes.
Questions? Contact the Office of the Vice President for Student Affairs and Services at (517) 355-7535.
---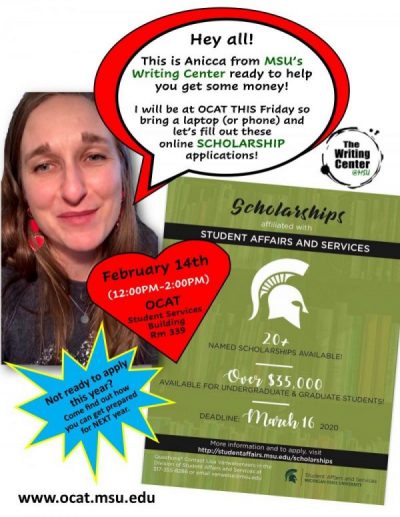 Email Anicca at coxanicc@msu.edu if you are in need of assistance with scholarship essay/application completion. 
---
SEARCHES:
MSU Scholarship Search: MSU offers a wide variety of scholarships, some of which have criteria which severely limit the number of students who might be eligible, while others have much broader criteria.
Office of Admissions Scholarship Search: The following scholarships are awarded to incoming freshmen who meet the criteria specified by the award. Satisfying the criteria does not guarantee that a student will receive a scholarship since the amount of funding may limit the number of awards that can be offered. Consideration for these awards is automatic. In some instances, an additional application is required. Check the searchable scholarship database for additional major-specific scholarships awarded directly by colleges and departments.  
---
SPECIFIC:
TOMODACHI Initiative Grants
Deadline: TBD
The TOMODACHI Initiative seeks to provide grant funds to organizations that aim to foster a generation of American and Japanese leaders who commit to strong U.S.-Japan relations. Grants between $5,000 and $80,000 may be used to develop cross-cultural youth leadership, help underserved communities learn about foreign cultures, and bring diverse voices to the U.S.-Japanese relationship. Preference will be given to programs that focus on STEM or help young women succeed in the STEM or business fields.
STEM Classroom Grants
Deadline: September 20, 2019 by 5 pm
FirstEnergy supports teacher professional-development and classroom projects that focus on the STEM fields. K-12 educators and youth group leaders are eligible to apply for grant awards of up to $1,000.
Jack Kent Cooke Foundation College Scholarship Program
Deadline: TBD
The Jack Kent Cooke Foundation College Scholarship Program is the largest undergraduate scholarship program available to high-achieving high school seniors with financial need who seek to attend the nation's best four-year colleges and universities. In addition to the monetary award, Cooke Scholars receive comprehensive educational advising, significant cohort-based programming, and graduate school funding, as well as a thriving network of nearly 2,500 fellow Cooke Scholars and alumni.
SR Education Group
Deadline: December 29, 2019
The SR Education Group offers a $5,000 scholarship open to students at least 16 years old with financial need enrolled at an accredited post-secondary academic institution. Applicants must submit an online application which includes two 300-500-word essays.
Scholarships for Latino Students
Deadline: August 31, 2018
Buenas Opiniones offers a renewable $2,500 scholarship, along with personal, leadership, professional development opportunities, as well as networking and mentorship. The scholarship is open to Latino high school seniors, community college students, and current college students. Applicants must submit a 500 to 1,000-word essay on their struggles as a Latino student.
Scholarship application for female high school senior or full-time college students from the metro-Detroit area. With your new position I'm not sure if you work mostly with seniors, but I wanted to pass it along in case you did or if you know of people who would be eligible to apply.
Here is the link for the application: https://primandprosper.org/scholarship-application/
---
Critical Language Scholarship Program
The CLS Program is a fully-funded intensive overseas language and cultural immersion program for U.S. undergraduate and graduate students enrolled at U.S. colleges and universities. Students spend eight to ten weeks abroad studying one of 15 critical languages: Arabic, Azerbaijani, Bangla, Chinese, Hindi, Indonesian, Japanese, Korean, Persian, Portuguese, Punjabi, Russian, Swahili, Turkish, and Urdu. Most CLS languages do not require previous study of the target language. The CLS Program seeks participants with diverse interests, and from a wide range of fields of study and career paths, with the purpose of representing the full diversity of the United States. Participants are selected based on their commitment to language learning and plans to apply their language skills to their future academic or professional pursuits. Applications to the CLS Program are due by Tuesday, November 27, 2018 at 8:00 p.m. EST and can be found here. Visit the Program's website here to learn more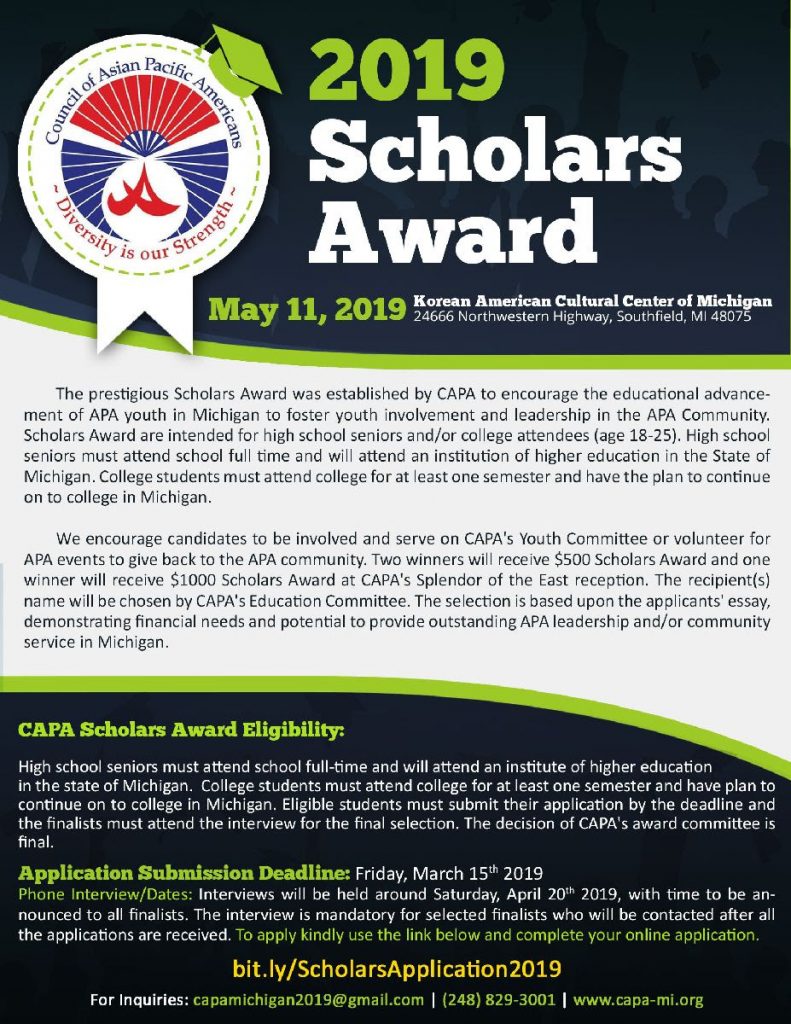 New scholarship opportunity
We are offering in conjunction with our Money Smart Week events. Students must answer the question: What does it mean to be Money Smart in your savings practices? Entries require a two-minute video that answers that question. Applications are asked to post on MSU Media Space and then complete a short application.
More information and directions can be found at http://moneysmartu.hdfs.msu.edu/