Scholarships, Fellowships & Awards
SCHOLARSHIPS AFFILIATED with Student Affairs and Services NOW AVAILABLE!
DEADLINE EXTENDED to Wednesday, MARCH 15th at 11:59PM!!
MSU Student Affairs and Services has more than 20 scholarships available for undergraduate and graduate students. The deadline for most of these scholarships is March 13. For more information and to apply, visit the MSU Student Affairs and Services scholarship page: http://studentaffairs.msu.edu/scholarships/
If you have any questions, please contact Lee Xiong, Graduate Administrative Professional, Office of the Vice President for Student Affairs and Services, xiongle1@msu.edu.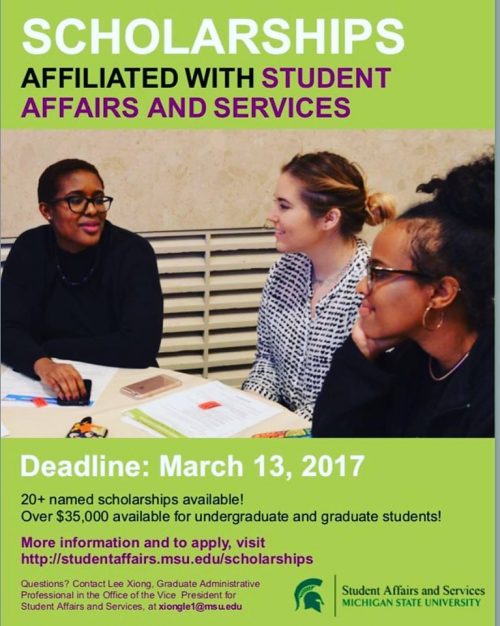 _________________________
SEARCHES:
_________________________
SPECIFIC:
1. National BLACK MBA Association Detroit Chapter 2016 Scholarship Opportunity
Qualification Requirements: 
Must be a minority student:
Must carry a 3.0 GPA or higher
Must complete application and a 500 word essay
Must be a resident in the State of Michigan or Toledo, Ohio
See application for additional requirements
Scholarships Available
High School – $1,000
Undergraduate – $1,500
Graduate – $2,000
Applications must be submitted by February 29, 2016
Download application here!
2. Funding Your Study Abroad Experience
Dean's Scholarship for Undergraduate Study Abroad

and the Ian J. Render Memorial Scholarship for Study

Abroad to South Africa Scholarship

What:

Four scholarships of at least $3,000 each will be awarded to help students cover expenses that exceed on-campus costs related to their chosen College of Education study abroad program.

Who:

The Scholarships will provide support to undergraduates enrolled in College of Education credit-bearing study abroad programs in the summer of 2016, fall of 2016, or spring of 2017.

Why:

The scholarships will significantly lower the cost barrier of study abroad and enable the engagement of students in powerful learning experiences that lead to greater understanding of diverse peoples and cultures.

How:

Applications will be reviewed by a faculty committee: Promising applicants will be invited to a selection interview. The deadline for application submission: January 31, 2016. Applications can be downloaded from the Office of International Studies in Education website starting November 15, 2015 at 5:00 pm. The College of Education is eager to assist you with your questions about the application process.
Additional Resources to Assist with Navigating and Funding Study Abroad:
Preparing Teachers for Global Classrooms Through Study Abroad Scholarship – Annual scholarship for teacher education students participating in MSU-sponsored study abroad programs to Africa, Asia, or Latin America.
Paying for Study Abroad – There are many ways to help pay for study abroad and maximize the resources that are available to you. Links on this page will help you identify a program that you CAN afford that also fits your interests and meets your academic needs.
http://studyabroad.isp.msu.edu/financing/
FAQs Concerning Financial Aid for Study Abroad – Frequently asked questions regarding financial aid for study abroad
http://studyabroad.isp.msu.edu/finaid/finaidfaq.html
Financing Study Abroad Scholarship Information – OSA offers its own scholarships, but be sure to look at other opportunities, too.
http://studyabroad.isp.msu.edu/financing/scholarships/
Office of Study Abroad Peer Advisors – Peer Advisers share their experiences, answer your questions, and give you advice. They can help you find a program that suits your schedule, major and interests. They can guide you through the application process, answer questions about scholarships and financial aid, and offer a student perspective on the various aspects of being abroad and returning home.
http://studyabroad.isp.msu.edu/peer/Email: osapa@isp.msu.edu
3. TOCE (Todos Organizados para Cuidar Estudiantes) Scholarship available! Application deadline is September 1, 2015 by 12noonApplication can be completed HERE(NOTE: You must download application to desktop in order to write directly into pdf.) Recipients are selected on a basis of demonstrated leadership in the following areas:
Commitment to an involvement with the MSU Chicano/Latino Community
Financial Need
Academic Achievement: 2.5 Cumulative GPA minimum
At least one full year of full time study at MSU (12 credits each semester) and current full time status
Priority will be given to first time applicants