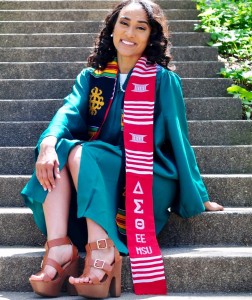 Featured on May 4, 2016
Name: Michelle Siler
Major: Double Major in Kinesiology with a specialization in Health Administrion AND Communications with a specialization in Mass Media
Year: Senior
Michelle Siler arrived to MSU by way of Detroit, Michigan. Her leadership experience includes serving for two summers as a MAGIC (Maximizing Academic Growth In College) Peer Assistant, a Resident Assistant for Hubbard Hall, two years as the Communication Chair Director on the Black Student Alliance (BSA) eboard, Secretary for Successful Black Women, Parliamentarian of the Minorities in Agriculture, Natural Resources and Related Sciences (MANRRS), Vice President of Hubbard's Hall Government, a Peer Educator for the Sexual Assault & Relationship Violence (SARV) Prevention Program, was a member of the Student Health Advisory Council (SHAC) and currently is a member of Delta Sigma Theta Sorority, Inc. serving as their Program Chair. She has been able to Study Abroad twice with the College of Osteopathic Medicine, first to Merida, Mexico where she raised over $500 for maternity hospitals and second to the Dominican Republic where she helped give health care to impoverished communities. She has volunteered on numerous occasions and with numerous organizations including, the Boys & Girls Club, Haven House, and the Heidelberg Project in Detroit. Her work experience includes an assistant at the Sparrow Chronic Pain Department, and working with elderly clients at Preferred Care. Her awards include, Student Ambassador award and scholarships from MSUFCU and the College of Communication Arts & Sciences for her study abroad opportunities.
What have you gained from staying connected to OCAT?
Staying connected to OCAT throughout the years has helped me attain many different leadership opportunities. I've been a peer assistant for the M.A.G.I.C program and even helped with Spartan Remix. When I came to MSU back in 2011, I was immediately overwhelmed by the size of the university and by faces that didn't look like mine. OCAT made it smaller and more comfortable by giving me all the tools I needed to be successful in my journey to graduation by connecting me to important resources such as office of supportive services, the writing center and financial aid. OCAT is like a big family. Thank you OCAT for always supporting me!
What are the lessons you have learned from being an MSU student?
I have learned so many things while being an MSU student.  I essentially "grew up" on this campus through bad and good experiences. I think the biggest lesson I've learned here is that you can do anything you set your mind to. It may sound cliche, but anything and everything is possible! All you need is a determined spirit. Whatever you do, never give up!
What are you most proud of?
I am most proud of making it to the finish line from such humble beginnings. Neither one of my parents attended college. I am the first in my family to acquire a post-secondary education. I've had so many unique experiences that I would have never gotten if I never came to MSU. I am proud of traveling to Mexico and Dominican Republic with the College of Osteopathic Medicine. I am very proud of becoming a member of the world's most powerful sorority; Delta Sigma Theta Sorority Incorporated. I am proud of making my mark on this great university and helping other's find their place here. Although I'm nearing the end of this great journey, the life lessons I have learned will carry on with me forever.
Where do you see yourself in 5 years? 
In five years, I see myself beginning my medical residency and publishing a children's book series geared toward highlighting the distinct beauty of African American children. I plan to stay involved in my community by providing free college readiness services for underprivileged teens.
________________________________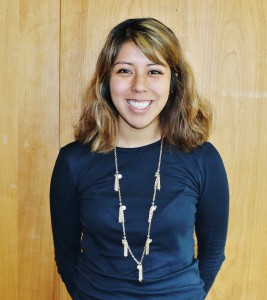 Featured on March 16, 2016

Name: Jessica P. Hernandez
Major: Interdisciplinary Studies 
Year: Senior

Jessica P. Hernandez arrived to MSU by way of Hart, Michigan as a Camp Scholar (College Assistance Migrant Program) with MSU's Migrant Student Services and was a participant in the MAGIC-CAMP orientation provided by OCAT.  She currently works as a Student Peer Assistant for MSU's Undergraduate University Division and served three semesters as an Intercultural Aide. She has worked in other numerous positions including Sales Distributer for El Cardenal, a Secretarial Assistant for St. Gregory Church, and a Teacher Assistant for Hart Public Schools Summer Program. She has held a diversity of internships serving with the Congressional Hispanic Caucus Institute (CHCI) and working with United States Senator Debbie Stabenow, interning with the Conflict and Stabilization Operations and working for the Department of State in Washington DC, interning with General Electric Oil & Gas, and interning with the United States Department of Defense in Battle Creek, Michigan. She was 1 of 16 students selected to attend the Ernst & Young Conference in Chicago, Illinois.  She has been a member of MSU Honor's College since 2012 and has been the recipient of over ten scholarships. Some of these awards include the 2015 Cesar Chavez Leadership Award, 2014 Eaton Multicultural Scholarship, 2013 & 2014 MSU Financial Credit Union Scholarship, 2013 Culturas de las Razas Unidas Scholarship, 2013 & 2015 Todos Organizados para Cuidar Estudiantes (TOCE) Scholarship, and the 2013 Raul Reyes Alternative Spring Break Scholarship. Her study abroad opportunities include studying "Entrepreneurship & Development" in Belize, "Civic Engagement" with the International Engagement in Mexico (IEM), "Environmental Studies" in Costa Rica and a study away trip to Florida to studying the "Science behind the scenes of Disney World." Her volunteer work spans numerous non-profit organizations and community service events from the Allen Neighborhood Center, National Museum of American Indians, Destination Detroit and founding a Food Drive that recycled unused packaged food by donating to food pantries at her High School. Currently she is working with CAMP for the Cesar Chavez Blood Drive Competition where she is serving as the competition's main coordinator for the second year. She is also serving as the Volunteer Coordinator for the 2016 Dia de la Mujer Conference after having served on the planning committee for the past four years.
________________________________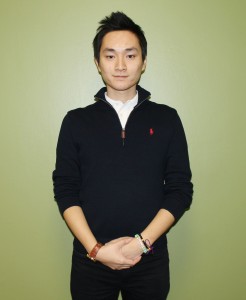 Featured on February 8, 2016
Name: Kelvin Searose-Xu
Major: Economics
Year: Senior
Kelvin Searose-Xu arrived to MSU by way of Grand Rapids, Michigan. He currently works for Cardinal Staffing Services as a Human Resource Specialist Intern helping connect incoming candidates with employment. He has worked in numerous other positions including Marketing Representative for SIR Home Improvements, Advisor for Business Union Financial, and Research Assistant Intern for Van Andel Institute where his research team published a paper entitled, "Structural basis for corepressor assembly by the orphan nuclear receptor TLX" centered on aiding cancer and diabetes research. He spent three years working for MSU's College Libertarians as their Graphic Designer while helping to create awareness of political issues to students and staff. He was elected the Asian Pacific American Student Organization (APASO) Co-president for fall 2015 but currently serves as its Senior Advisor. Through his leadership with APASO he participated in the spring 2015 CORES cultural trip to Detroit while working collaboratively with SASE (Society of Asian Scientists and Engineers) and the Asian Pacific American Studies Program on "The Big Picture: What's missing from APA media representations?" Other leadership experience includes previously serving as his Asian interest fraternity Lambda Phi Epsilon's Vice President and President where he helped organize for three years a Bone Marrow Drive targeted toward Asian Americans who, as a minority, have difficulty finding bone marrow matches. During his Presidency with Lambdas he helped organize a collaborative program called "Chicken Wings for the Soul" with HASA (Hmong American Student Association) and PASS (Pilipino American Student Society) that was voted as GBM of the year among APASO and its affiliate organizations. While representing his fraternity, he served as the Multicultural Greek Council's Treasurer and Council Liaison for the 2013 Greek Fall Welcome Committee. His fraternity honored him with the "Pride of Lambdas" award recognizing him as the most committed. He also served on the 2015 Spartan Remix planning committee and has been involved in other organizations including MSU's Meditation and Mindfulness Club. During the spring 2015 Asian Pacific American Monologues he was chosen as one of the guest speakers. His presentation, in which he spoke about his spiritual mindfulness, was called, "Understanding self-identity, society, and the beyond from a Buddhist mindset."
________________________________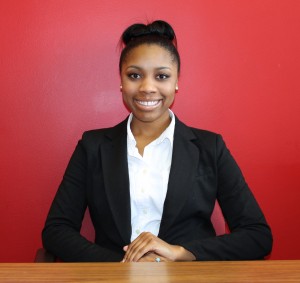 Name: Kani Rochelle Caldwell
Major: Interdisciplinary Studies of Social Science
Year: Junior

Kani Caldwell arrived to MSU by way of Lansing, Michigan. She began her MSU college career as a participant in M.A.G.I.C. (Maximizing Academic Growth In College), OCAT's summer transitional program for first-year incoming MSU students. Currently, she works as an Intercultural Aide (ICA) in the Brody Neighborhood having started as a Mid-year Aide during spring 2015. As an ICA she serves on an MRULE team that facilitates roundtable discussions in Brody. She has also worked as a Research Assistant for MSU's College of Nursing and the College of Human Medicine. She has interned with East Lansing Progressive helping create voter awareness and registering students to vote. Her leadership experience includes serving on the Spartan Remix Outreach Committee during summer of 2014 and Chairing the Spartan Remix Logistics Committee for summer 2015. She was recently 1 of 16 student leaders who completed OCAT's inaugural Leadership Institute, a four-part professional development seminar for student leaders. Her volunteer experience includes voter registration with the Obama campaign, serving for over two years as a youth leader and over three years as a Sunday school teacher for New Life International Church. She is a graduate of Lansing's Everett High School and was the Vice President of the school's student council, part of the varsity basketball team and the recipient of the school's prestigious award, "Student of the Year." This summer she plans on participating in a Study Away program in Washington D.C. to study Health Administration and Public Policy.
________________________________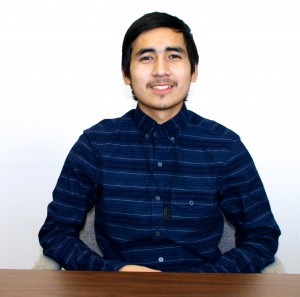 Featured on December 8, 2015

Name: Domingo Jose Cortez
Major: Advertising with a Specialization in Media and Management and a Minor in Chicano/Latino Studies
Year: Senior

Domingo Jose Cortez arrived to MSU by way of Southwest Detroit and Dearborn Heights, Michigan. He currently works as a Sexual Assault Peer Educator for MSU's Sexual Assault & Relationship Violence Prevention Program (SARV) providing workshops for first-year students informing them about sexual assault, sexual harassment and rape. He has previously held a number of positions at MSU, working as an International Orientation Leader, MSU TRIO Exel Program Mentor, an Intercultural Aide (2 years), and Service Center Representative at the River Trail Neighborhood Engagement Center (over 2 years). He has also served in numerous leadership roles including: President of Emmons Hall Government, President of Latin@s On The Move, and Secretary for Culturas De Las Razas Unidas (CRU). He has had the opportunity to study abroad both to Belize and Europe visiting France, Belgium, Netherlands and Monaco. Based on his academic record (earning Dean's List nearly all semesters at MSU) and leadership experience, Domingo has been the recipient of numerous scholarships and awards at MSU, such as, the Department of Advertising's William J. Hopped Endowed Scholarship, Office of Study Abroad's Forest Akers Endowed Scholarship, Excalibur Student Leadership Scholarship, and OCAT's Todos Organizados Para Cuidar Estudiantes (TOCE) Scholarship. Most recently he was invited to the "Linked BA-MA" program offered by the Advertising/Public Relations program, which is an accelerated Master's Program. Participants who are part of this program receive 9 graduate credits prior to the start of their Master's program with the objective of graduating with an Advertising/Public Relations degree in one year. Participants apply to this program as they would apply to graduate school. Domingo is eagerly anticipating his acceptance into MSU's Com. Arts graduate program.
________________________________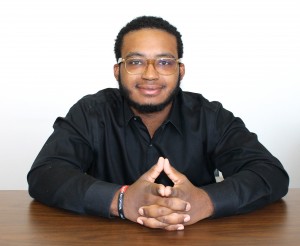 Featured on November 5, 2015
Name: Antoine Lamarr Smith II
Major: Social Work
Year: Graduate Student
Antoine Lamarr Smith II arrived to MSU by way of Detroit, Michigan. Prior to becoming an MSU student, he participated for two summers in the four-week Broad Summer High School Scholars Program coordinated through MSU's College of Education. During the summer before his freshman year, he also participated in OCAT's MAGIC summer program. His leadership experience includes serving as an undergraduate Teaching Assistant for Communications 100, serving on the 2015 Spartan Remix Publicity committee and recently becoming 1 of 16 student leaders who completed OCAT's inaugural Leadership Institute. As a former participant in the Midnight Golf Program during his high school, Antoine continued his involvement as the MSU program's Community Service Chair organizing and executing over ten community service projects and charity walks. He has worked closely with MSU's Adolescent Diversion Project serving as a Juvenile Court Appointed Youth Advocate and conducting an 11-week intervention with youth to deter further involvement in the juvenile court system. His additional volunteer projects include Taking it to the Streets, Spartan's Day of Service, Lansing Community Connect and speaking at Gear Up's Study Abroad Presentation. He has also been to Mexico (Merida and Puebla) during two spring breaks through the International Engagement in Mexico (IEM) Study Abroad program. In addition, he worked for four years with MSU's Physical Plant. He is a recent graduate of MSU receiving a BA in Communications spring 2015 and is back to further his education in MSU's Master of Social Work graduate program. This spring he will return to Mexico to participate in MSU's Study Abroad Program's International Social Policy & Service Delivery.
________________________________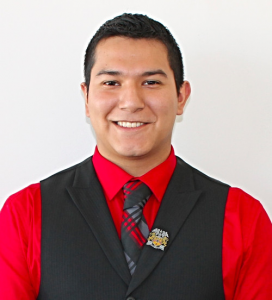 Featured on October 8, 2015
Name: Angel Trevino
Major: Human Biology Pre-med
Year: Senior
Angel Trevino arrived to MSU by way of Gobles, Michigan. He currently works as a Student Outreach Specialist (SOS), a component of the Intercultural Aide Program, where he provides support for over twenty students socially and academically. Other jobs he has held include a Research Lab Assistant/Intern for two summers with MSU's Department of Toxicology, two and a half years as an Intercultural Aide where he was selected as a Team Coordinator during spring 2015, and as a MAGIC Peer Assistant during summer 2015. He is also a very active member in his fraternity Phi Iota Alpha Fraternity, Inc. previously serving as its Provost and currently serving as its Community Service Chair. During the spring of 2015, he was the Co-chair of Kidsfest, where lower income elementary youth are brought to MSU for a day of fun and education. During the same semester, he also served as the Chair for the "Phi Iota College Experience" bringing 24 High Schoolers (ranging from freshmen to seniors) from the Hispanic Center in Grand Rapids to experience MSU. Prior to MSU, he was the Senior Class President of Gobles High School. Most recently, he participated in the documentary video produced by Professor Javier Pescador called, "Graduation and Me" that focuses on the graduation and retention of Latino students at MSU. This summer his plans are to apply to graduate school.
________________________________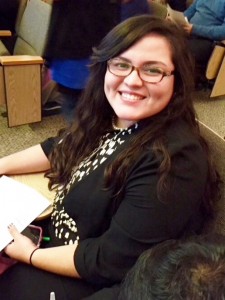 Featured on September 17, 2015
Name: Denise Cruz
Major: Sociology with a Minor in Chicano/Latino Studies
Year: Senior
Denise Cruz arrived to MSU by way of Mission, Texas as a Camp Scholar with MSU's Migrant Student Services. She currently works as a Student Assistant for MSU's Upward Bound, a program that works with High School students who will be 1st Generation college students. Previously Denise worked for MSU's High School Equivalency Program (HEP) for two and a half years where she helped tutor HEP students, facilitated testing, and provided on-going support for current students and those that graduated the program. She also served as the Michigan Coordinator for the Association Farmworker Opportunity Programs, Health and Safety Program where she coordinated a "Long-Sleeve Shirt Drive" during Farmworker's Awareness Week. Other leadership opportunities include: International Engagement Volunteer (IEV) and Site Leader for International Engagement in Mexico (IEM) for the 2013 & 2014 Spring Breaks. Through IEV, she helped raise funds for participants of IEM. She was also the former secretary for Culturas de las Razas Unidas (CRU) and the Co-Chair of the 2012 Brown Pride held at MSU. She has held an internship with Destination Lansing working with youth at the Boys & Girls Club and St. Vincent Catholic Charities to motivate them to pursue higher education. Denise and her family were one of several families that were featured in the documentary called "Children of the Harvest" that was featured on NBC Dateline aimed in focusing on the life and barriers of farmworker families. Four years later in 2014, NBC Nightly News with Brian Williams followed up with Denise while interning at the National Migrant and Seasonal Head Start Association in Washington D.C. There she assisted in developing a training curriculum for children exposed to pesticides and heat on a daily basis. She also lobbied at the Capitol in regards to Immigration Reform, farm working issues and the support of migrant Head Start and was able to meet President Barack Obama. Most recently, she participated in the documentary video produced by Professor Javier Pescador called, "Graduation and Me" that focuses on the graduation and retention of Latino students at MSU. She is also the recipient of the 2015 Cesar Chavez Leadership Award.