National Hispanic Heritage Month is celebrated from September 15 to October 15 to recognize the contributions and influence of Hispanic Americans to the history, culture, and achievements of the United States of America.
---
Residence Education and Housing Services (REHS)
Check out this REHS Educational Resource designed to create a baseline awareness on Hispanic Heritage Month.
LINK: https://docs.google.com/presentation/d/1hkweoWcldD-p-NT_i7UhZxfXJ4EPmCjJm0n-pMCqy9M/edit?usp=sharing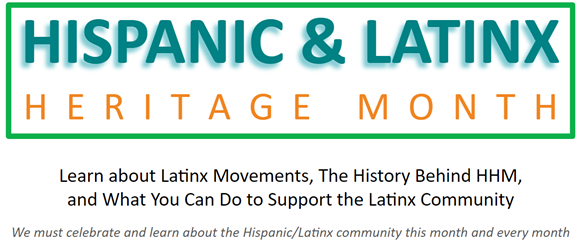 ---
Hispanic Heritage Month Programming at MSU.
Events are open to all.
Incarceration and Race in Michigan: Zoom Workshop Series
"Criminal Justice, Disconnected Youth, and Latino Males in the United States and Michigan"

Passcode: 88456

---

MSU OCAT Green Table Talk

September 29, 2020 @ 7:00 pm

Zoom ID: 923 7170 2408

Please join is at our Green Table Chat w/ OCAT where we bring real discussion on real issues with real students. Our student panelists will discuss what it means to be Latinx, their experience as a person who identifies as Latin@x/Hispanic in and beyond the classroom, their strategies on student success, how they navigate the institution, and answer your questions. Hosted by MSU OCAT & CRU.


---

Office of Cultural and Academic Transitions Annual Open House (Virtual)

September 30, 2020 @ 12:00 Noon
Zoom ID: 930 0305 8156

The Office of Cultural and Academic Transitions (OCAT) constructs supportive communities that actively involve students in learning. OCAT Offers hundreds of programs and activities centered on student success. The scope of these student success initiatives focus on identity development, transition, social justice issues, building community, empowerment, belonging and leadership development. The heritage and awareness programs demonstrate a strong tradition at Michigan State University of honoring historical context, exploring culturally significant events and raising visibility of communities who have historically been minoritized. All MSU, staff, community and students are invited to this open house.

---

Hispanic Heritage Month Lecture

"Latinx at the Crossroads: Cultural Maps of a New American World"

October 6, 2020 • 1:00 pm
Registration: https://msu.zoom.us/meeting/register/tJwvcumprzwsGNzvpMgvogn_U4LRD_Ry0VMq

Featuring David Carrasco (Neil L. Rudenstine Professor of the Study of Latin America), a Mexican American historian of religions with particular interest in Mesoamerican cities as symbols, and the Mexican-American borderlands.

---

Whose Eyes on What Prize?: Black, Brown, Race and Race Mixture in Latinx History

October 6, 2020 — 3:00 PM

Student Conversation with Professor David Carrasco
Neil L. Rudenstine Professor of the Study of Latin America, Harvard University

Register in advance for this meeting: https://msu.zoom.us/meeting/register/tJAvduisrT8rGd15fxZWR-uiraTGXWFiorzl

After registering, you will receive a confirmation email containing information about joining the meeting.

---

2020 Michigan Legislative Latino Day

Second Annual Michigan Legislative Latino day at the Capitol being held Virtually through Zoom onWednesday, October 7th from 11am-12pm

Registration link: https://bit.ly/3mcsar1

---

Counseling & Psychiatric Services (CAPS)

Latinx Listening Space

We invite you to join this confidential, inclusive, nonjudgmental virtual space for sharing, listening, connecting, processing, and hopefully, healing. Issues within the Latinx community and Latinx experience will be explored.


Sign Up via SignUp Genius for a consultation appointment

https://www.signupgenius.com/go/60b0a45a5a92da4f85-caps

---

WKAR Programming

Throughout Hispanic Heritage Month, select programming will be featured at wkar.org and in the weekly WKAR Update newsletter. Also, an extensive listing of Hispanic Heritage Month TV programming airing in primetime on WKAR HD and WKAR World can be found here: https://www.wkar.org/post/hispanic-heritage-month-2020-wkar-tv

Or, look for Hispanic Heritage Month on the wkar.org home page.

Of particular note, PBS' Hispanic Heritage Awards will air on WKAR Tuesday, October 6 at 8pm, and after that airdate, available online or at the PBS App – it is a favorite among our audience and I hope you are able to check it out. Here is a link for more information: https://www.pbs.org/show/hispanic-heritage-awards/

WKAR has joined Latino Public Broadcasting (LPB) as an outreach partner for their digital campaign, "LATINOS ARE ESSENTIAL." This initiative will begin in late October and will bring recognition to the countless Latinos who are on the frontlines and making an impact during COVID-19.

---

Michigan State University Veterinary Medicine Honors Hispanic Heritage Month

https://cvm.msu.edu/vetschool-tails/celebrating-national-hispanic-heritage-month-at-the-msu-college-of-veterinary-medicine

---

Michigan State University College of Social Science Honors Hispanic Heritage Month

Link: https://myprofile.advancement.msu.edu/controls/email_marketing/view_in_browser.aspx?sid=1393&gid=3&sendId=1701681&ecatid=70&puid=ebe10785-979d-4439-aa8f-6a56bcee4b88