Student Success Initiatives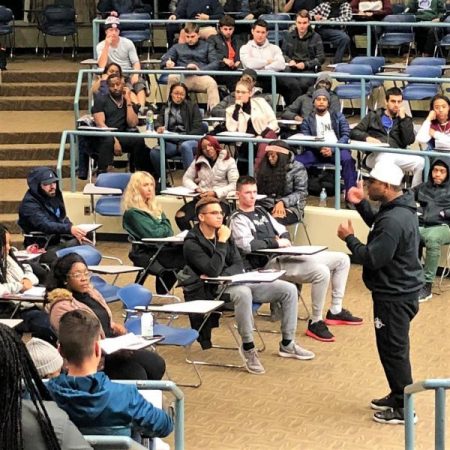 OCAT provides a number of initiatives aimed in promoting student success through mentoring, advising, motivating and leadership development.
---
MENTORING;
Research shows that mentorship has a positive impact on students' persistence and academic achievement in college and helps prepare them to be successful in professional careers. After one year of mentoring, students with mentors have higher GPAs and are more likely to stay in college compared to academically similar students who do not have mentors. Undergraduate students who receive out-of-class mentoring demonstrate increased academic achievement and are significantly more likely to return to college for a second year.
ADVISING;
Providing support for our student leadership is one of OCAT's top priorities. This support takes shape in many ways including serving as advisers for the four organizations that make up the Council of Racial & Ethnic Students (CORES).
MOTIVATION;
The Success Series is a motivational and support series for MSU students that features the dynamic one-of-a-kind motivational speaker Dr. Eric Thomas (aka the Hip-Hop Preacher). These sessions are every Monday (during MSU's academic year) at 7:00PM and feature a powerful message by ET on topics such as "refocusing," "who's on my team?" "self-esteem," and much much more!  Each session also features a Q&A portion with ET. This is the BEST 60 mins of the week!!! This event is FREE & OPEN to the public.
LEADERSHIP;
OCAT provides a number of programs focused on leadership development for students at MSU. These programs include our Intercultural Aide Program,  iLead. iSucceed. and many more opportunities for students. If you have suggestions for leadering programming ideas and/or want to collaborate with OCAT, please contact us at ocat@msu.edu.
SOCIAL & ACADEMIC SUPPORT;
Join OCAT every Friday (12:00—4:00PM) during spring 2019 to de-stress, meet new friends, learn about campus opportunities, and get involved. We will have arts & crafts, games, prizes, music, snacks and much more. OCAT is located in the Student Services Building, Room 339. EVERYONE IS WELCOME TO ATTEND.