Asian American & Pacific Islander Heritage & Awareness Events
OCAT works collaboratively with APASO (Asian Pacific American Student Organization), the Asian Pacific American Studies Program other MSU Departments to put on quality Asian American programming. For more information on these events, contact Meaghan Kozar (kozarmea@msu.edu).
---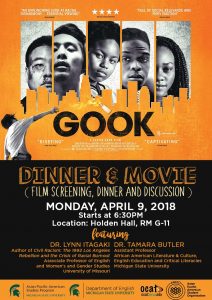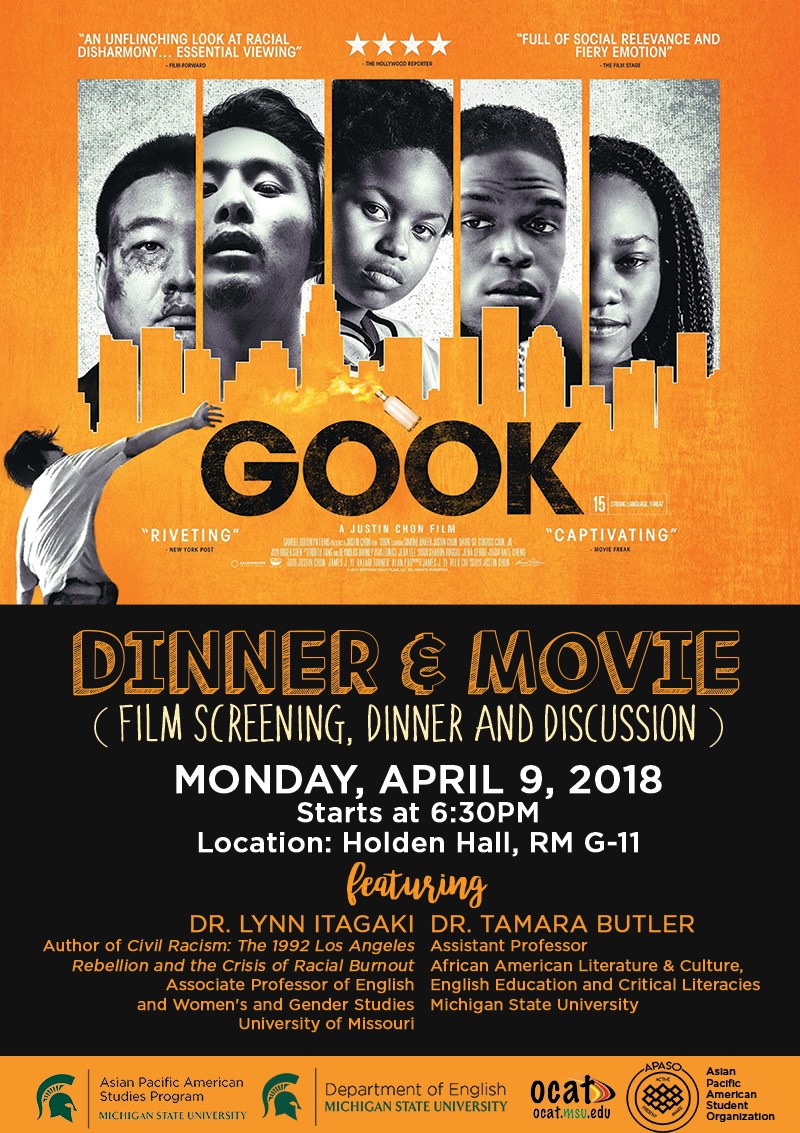 ---
The Asian Pacific American Studies Program at MSU in partnership with OCAT are proud to announce the upcoming…
"ACTIVISM, POLITICS AND SOCIAL MEDIA" SUMMIT featuring keynote speaker, Phil Yu, aka Angry Asian Man (internet blogger on Asian American news, media, and politics http://www.angryasianman.com/).
Saturday, February 27, 2016
Kellogg Hotel & Conference Center
9:00AM – 3:00PM
FREE & Open to the Public. However, participants must pre-register for lunch. Online registration will be available soon. Email apaspec@msu.edu or ocat@msu.edu and call (517) 353-9140 with questions.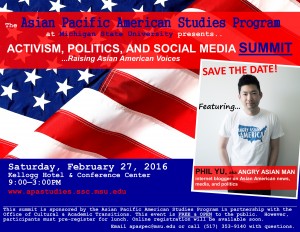 ---
Join APA Studies Program, APASO, MI APIA-VOTE and OCAT as we kick-off an awareness of 2016 Campaign and Voter Registration. There will be a contest among APASO's Affiliate orgs. for which org can collect the most voter registrations. The winning APASO affiliate org. will receive bragging rights AND a $200 award for their org. You must come to this event to find out all the details. ALSO…featured is the DYNAMIC SPEAKER, Theresa Q. Tran, Executive Director of APIA-VOTE!
This will be an interactive, exciting event to get you hyped up about issues that matter to the APA community!!!!!
REFRESHMENTS PROVIDED!!!!!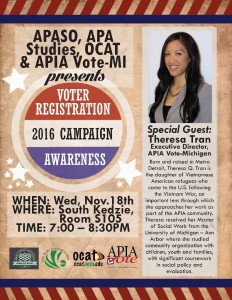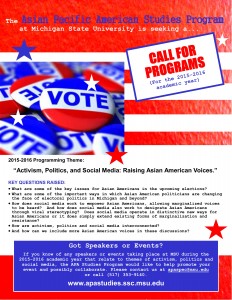 ---
"Asian Invasion Myth" Symposium
November 8, 2013
For more information, visit: www.apastudies.ssc.msu.edu