SAVE THE DATE
October 1, 2014
iLead. iSucceed.
*****************************************
THANK YOU!

…for all those involved with the 2012 iLead. iSuceed. program! We had

110 students

sign-in! Here are photos from the event & a pfd version of the PROGRAM BOOKLET:
(Download Program Booklet Here)
[Photos taken by Krystal Stinson, edited by Meaghan Kozar]
[Photos below are taken by Simon Hong Da Lee and the MIPC (MSU International Photography Club)]


 2012 iLead. iSucceed. promotional flyer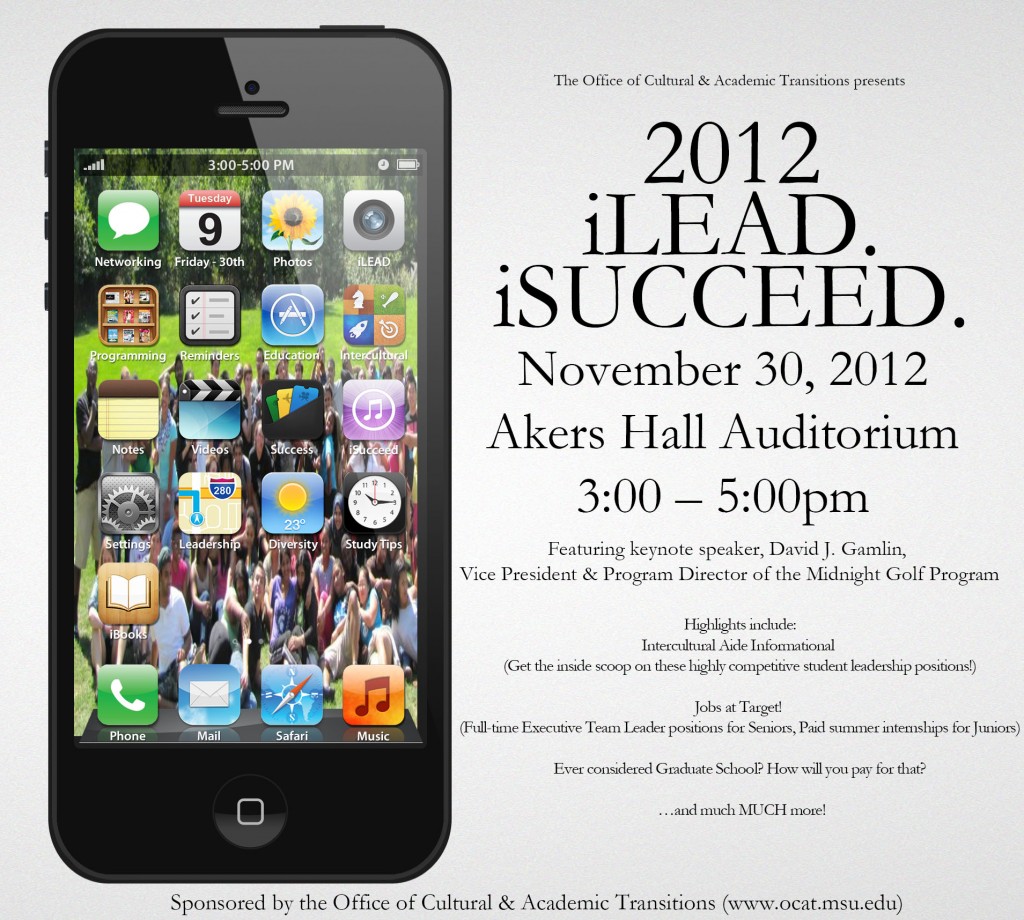 Turn LEADERSHIP into SUCCESS! Do you really know how to NETWORK? How do you best utilize your leadership experience in student orgs./mentoring/volunteering /internships into ways that make you more marketable for future employers?
HIGHLIGHTS INCLUDE!!
1. Keynote Speaker, DAVID J. GAMLIN, the VP and Program Director for the Midnight Golf Program* http://www.midnightgolf.org/
2. INTERCULTURAL AIDE Program's "Inside Scoop" on these highly competitive student leadership positions. (Meet Aide program Area Coordinators, Current Intercultural Aides, learn about the extensive Interviewing process, etc.)
3. TARGET will be recruiting for FULL-TIME Executive Team Leader positions for Seniors, Paid summer internship for Juniors! http://www.target.com/
5. NETWORKING FAIR! (From Graduate School, Service Learning, Non-Profit orgs., and much….SOOO MUCH more!)
* "The Midnight Golf Program (MGP) is a 30 week empowerment and mentoring experience that teaches life skills including financial literacy, college preparation, community activism, as well as, learning to play golf. It is a program that makes a positive impact in the lives of the participants."
*   *   *
OCAT's Leadership/Career Success Event Fall 2011
The OCAT Leadership/Career Success Event is an opportunity for students to interact with career professionals. OCAT Leadership.Career.Success Event (Brochure)



HIGHLIGHTS:
– Reps. from Humanities (ever considered becoming a professor?!), Law, Business/Finance, Non-profit, etc. careers…
– Info. on Landing internships, scholarships, fellowships!
– The McNair program
– International Engagement in Mexico
– Peace Corps
– Target
– Bing.com
– Michigan Nonprofit Association
– MSU Career Services
– Assistant Hall Director positions
– MSU Entrepreneurship
– Master's in Public Health Adminstration
– AND 3 FREE headshots from TAG photography for your portfolio!
*TAG Photography in collaboration with AphiG (Alpha Phi Gamma) will be hosting a photo booth "Headshots for Safe Place".
This event is sponsored by the Office of Cultural & Academic Transitions, TAG Photography, Alpha Phi Gamma and Bing.com. Please visit Bing Survey-

http://binged.it/pkpBkM

Do a quick survey and be entered for the chance to win Starbucks giftcards, video games, xbox 360 and many other cool prizes. Michigan State University –

http://binged.it/tRiUHi

Sign up for Bing Rewards and Search and earn points for every time you search and then redeem your points earned for stuff like Starbucks giftcards to make it through those all-nighters.