OPPORTUNITIES! Get Involved!
OCAT is the hub for creating and collecting opportunities for students, staff, and faculty. If you want to gain experience in leadership, help promote cultural awareness, meet other students similar and different from yourself, mentor young folks, volunteer, hang out, find jobs/internships, network, etc., then OCAT is for you! We will help you GET INVOLVED in your MSU community. Here is a partial listing of opportunities that we create or that we are aware of. Check these out! Or stop by the Office of Cultural & Academic Transitions (OCAT) TODAY!
*************************************************************************************************
1. BEGIN by viewing OCAT's events calendar!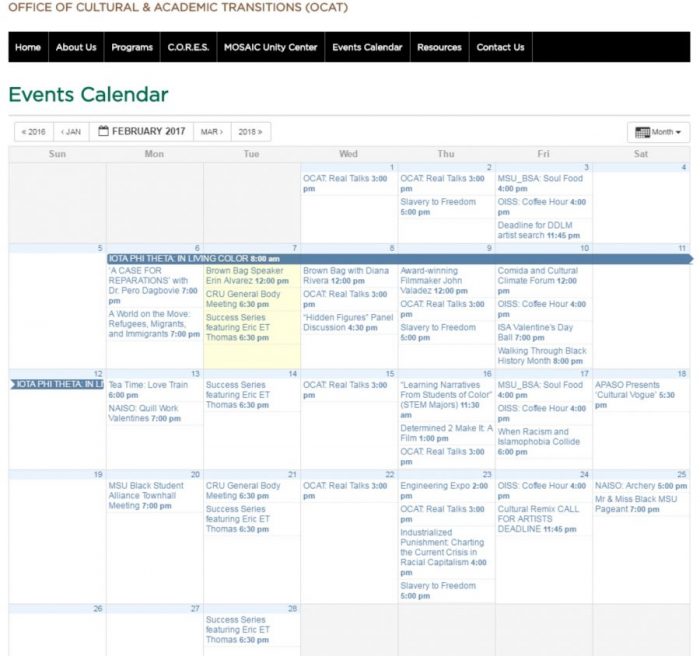 _________________________________
2. SPARTAN REMIX PLANNING COMMITTEE!!
If you are around the East Lansing area summer 2017, contact ocat@msu.edu to get involved.
_________________________________
3. InnovateGov Service Learning Internship Program is looking for summer interns! The program is offered through the MSU Department of Political Science, and is open to all majors. Students participating in InnovateGov will spend 10 weeks this summer in Detroit, and will intern in city, county, and non-profit sectors focusing on revitalizing the city of Detroit.
InnovateGov is a low-cost program. Housing will be provided at Wayne State University and financial support will likely be given to all students accepted into the program. Interested students can apply online at the CSS Study Away website. 
For more information on the program, please visit the InnovateGov Internship Program page. Students participating in the internship are required to take PLS 422 (4 credits) as well as 6 internship credits. These internship credits can either be PLS 494 credits or the internship course for the students' respective major. We are willing to work with all students to ensure the internship credits fit into their degree plan.
If you have questions, contact Krista Zeig at kzeig@msu.edu.
_________________________________