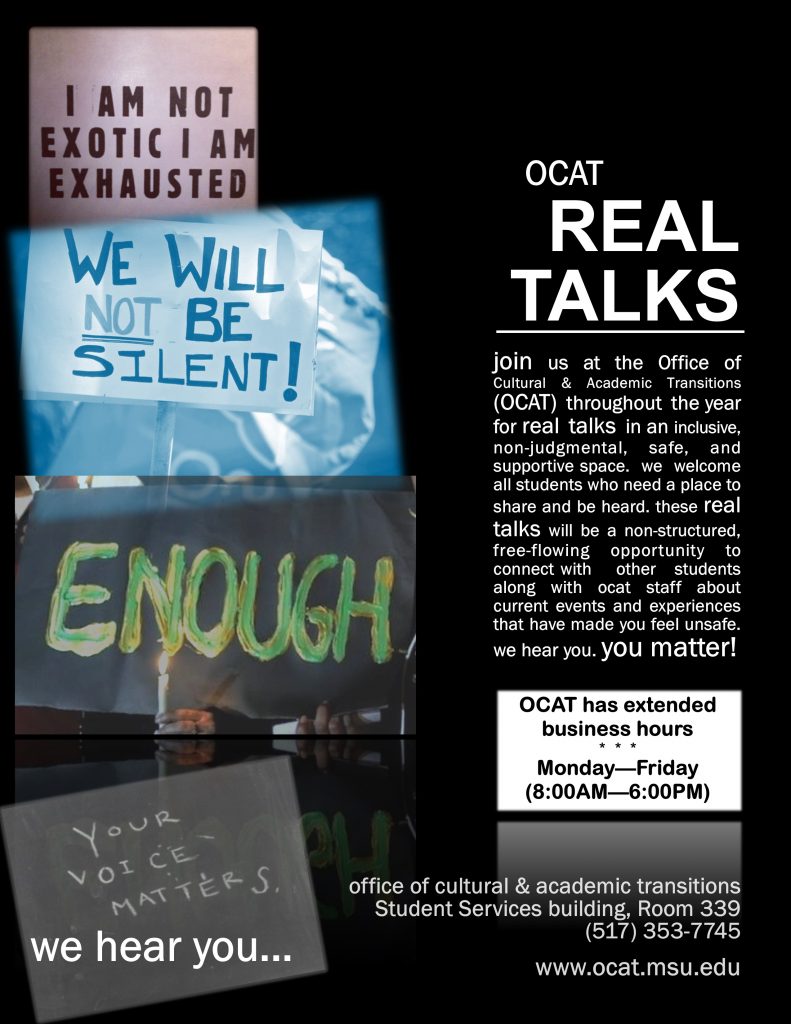 Join us at the Office of Cultural & Academic Transitions (OCAT) throughout the year for REAL TALKS in an inclusive, non-judgmental, safe, and supportive space.  We welcome all students who need a place to share and be heard. These real talks will be a non-structured, free-flowing opportunity to connect with other students along with OCAT staff about  current events and experiences that have made you feel unsafe.  Call us at (517) 353-7745 or stop by Room 339 of the Student Services building. OCAT is open for the fall 2017 semester with extended hours (Monday-Friday 8:00AM-6:00PM).
We hear you. You matter! 
********************************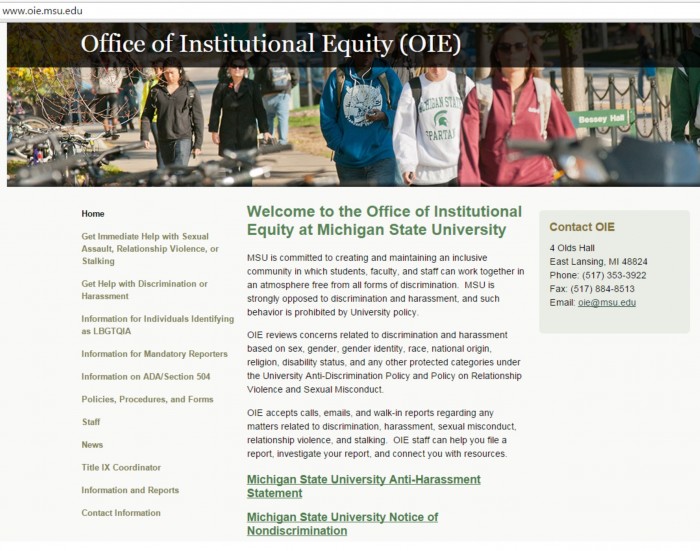 OIE (Office of Institutional Equity) is the office responsible for reviewing and investigating claims of discrimination, harrassment, and bias, as well as any concerns that fall under the Policy on Relationship Violence and Sexual Misconduct. Visit www.oie.msu.edu for find out more about this office.
********************************
To the Students We Serve,
Many events have occurred across college campuses and around the world over the course of this semester. The Syrian refugee crisis, the acts of student protest at the University of Missouri, incidents of racism at Yale, Smith, and Ithaca, as well as this year being the highest number of murders of transgender women on record, in particular transgender women of color.
These events can potentially reflect our own lived experiences and realities. As educators, administrators, and mentors, we care about you, your safety, and your sense of belonging here at Michigan State University. We are here for you.
We want to reaffirm our commitment to you through this message. We are committed to listening to you and supporting your lived experiences. Here are some of the many ways we are committed to being here with you:
• We are committed to guiding you through the institutional processes to address incidents of bias, discrimination, and harassment which are manifestations of interconnected forces including, but not limited to, racism, xenophobia, sexism, heterosexism, and transmisogyny;
• We are committed to advancing the conversation on equity and inclusion on our campus;
• We are committed to making MSU a place where everyone feels safe and feels like they belong;
• We are committed to standing alongside you while guiding you to assure your experiences are recognized and your voices are heard;
• Above all, we are committed to supporting the communities we serve.
Please contact us using the information below or come to our offices.
Lesbian, Bisexual, Gay, and Transgender Resource Center
Student Services Bldg
Room 302
(e) lbgtrc@msu.edu
(p) 517-353-9520
Mosaic Multicultural Unity Center
MSU Union, 2nd Floor
Room 226
(e) mosaicmc@msu.edu
(p) 517-432-7153
Office of Cultural and Academic Transitions
Student Services Bldg
Room 339
(e) ocat@msu.edu
(p) 517-353-7745
In solidarity,
The staff members of the LBGT Resource Center, the Mosaic Multicultural Unity Center, and the Office of Cultural and Academic Transitions.
(click image to view letter)