When:
November 1, 2019 @ 2:00 pm – 3:30 pm
2019-11-01T14:00:00-04:00
2019-11-01T15:30:00-04:00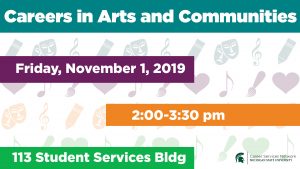 2-3:30 PM
Student Services Building Rm 113, Presentation Suite (campus map)
Passionate about making a difference in your community through your career? Join us for cider, donuts, and conversation with professionals who work to build strong communities through the arts, nonprofits, and government. We'll even spend the last thirty minutes diving into an activity that combines social justice and the arts–to give you a taste of what this work is really all about.
Panelists include representatives from:
– MSU Museum, a Smithsonian-affiliated museum with science and cultural artifacts
– Peckham, a Lansing-based organization that supports people with disabilities
– Robin Theatre, a Lansing-based organization that supports comedy, music, theater, and local community development
-Accent Pontiac, a Detroit-based organization supporting social change through music education
-Community Economic Development Association of Michigan, a statewide organization dedicated to supporting thriving communities in Michigan