Discounted Test Prep Returns!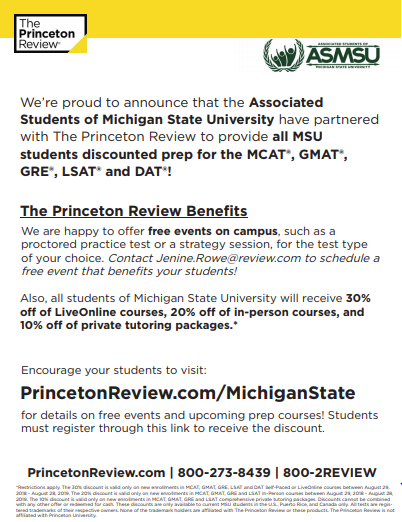 We're proud to announce that the Associated Students of Michigan State University have partnered with The Princeton Review (TPR) to provide 

an outstanding

resource to all MSU students for standardized test prep including the GRE, GMAT, LSAT, MCAT, and DAT! TPR helps host free events right on campus and offer exclusive discounts on Princeton Review prep courses!We offer 30% online self paced and online classroom courses, 20% off of in person courses, and 10% off tutoring packages for students looking to prepare for upcoming graduate school tests.  If you would like to schedule an event that will benefit your students, such as a free proctored test or a strategy session for the test type of your choice, please contactJenine.Rowe@review.com. Also, encourage your students to visit PrincetonReview.com/MichiganState to see available discounts, see details on free events, and view upcoming prep courses! If you could please help and spread the word about these discounts, we can help save students hundreds of dollars off of their test prep materials!
Coming soon, we have a free proctored GRE practice test and a free Strategy Session this month. See the links below to enroll!
Saturday, November 17th 1:00pm – 5:00pm
Thursday, November 29th 6:00pm – 8:00pm
11.06.18