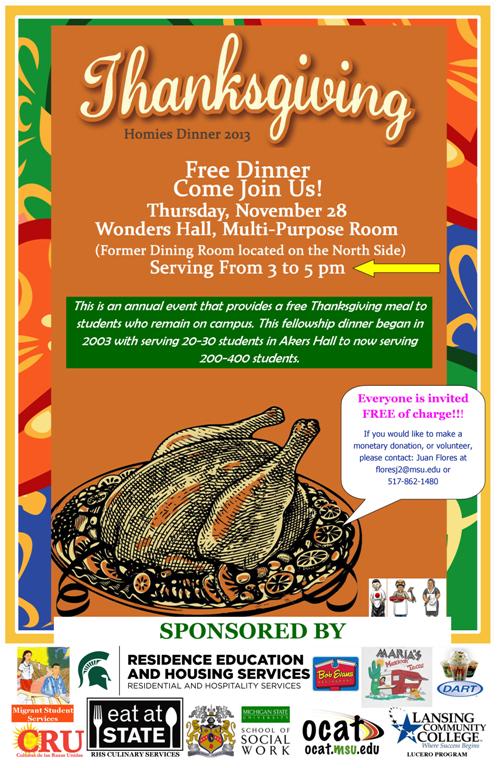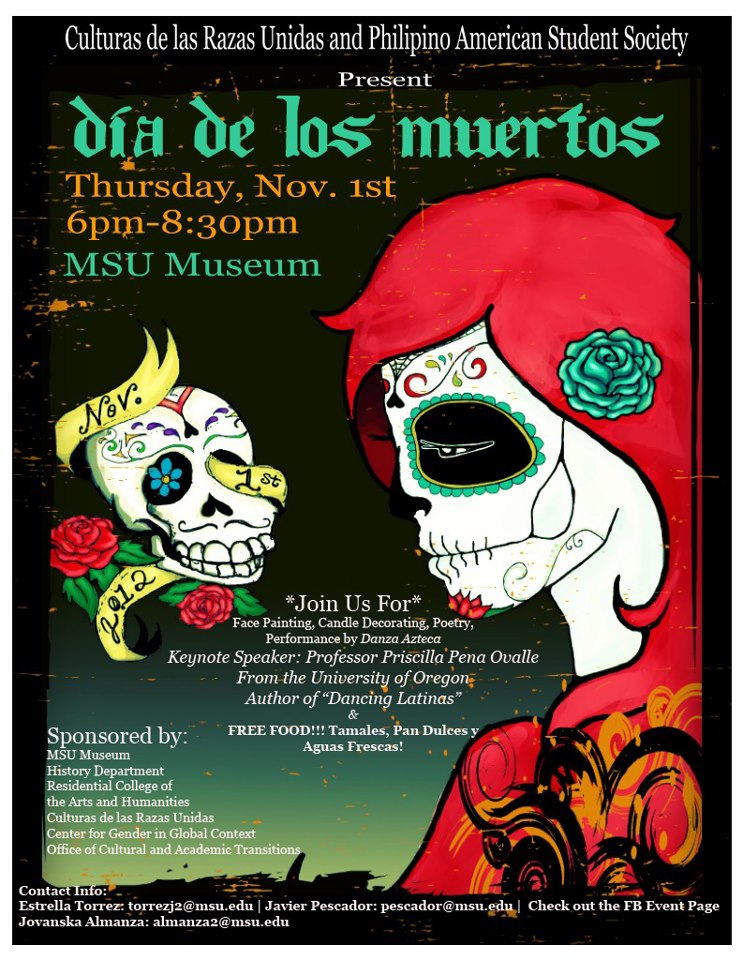 Dia de los Muertos 2012 Come join Culturas de las Razas Unidas and The Pilipino American Student Society, as we celebrate Dia de los Muertos.
November 1, 2012 (6:00 – 8:30pm) MSU Museum
SCHEDULE OF EVENTS:

-An Ofrenda Presentation
-Performance by Danza Azteca
-Face Painting
-Candle Decorating
-Poetry
and of course…..
FREE FOOD!!!
There will be Tamales, Pan Dulces y Agua Frescas!
Contact: Javier Pescador pescador@msu.edu & Estrella Torrez torrezjs@msu.edu
@  @  @  @
Brown Pride (Orgullo Hispano) 2012 Are you ready? Great people makes a great nation.
BROWN PRIDE presents:
Portraits of Courage: Latino Shaping a Nation, this is a perfect event to celebrate Latino Heritage Month on campus. This event is a multimedia performance presents the contributions of Latinos to American history. These are the stories of Latinos and how they have made all of our lives better today.
October 23, 2012 (7:00 – 9:00pm)




Kellogg Center Auditorium
@ @ @ @
Latino Welcome Reception is a celebration hosted by MSU Latino Students, Staff, Faculty, and Organizations in lieu of Hispanic/Latino Heritage Month. Join us for a meet and greet Resource Fair and Baile.
September 15, 2011
Kellogg Center Big Ten A 6:30pm-12midnight (Formal Program from 6:30-7:30pm)
Sponsored by:


Chicano Latino Studies (CLS)




Culturas de las Raza Unidas (CRU)




Office for Inclusion and Intercultur

al Initiatives (OIII)




Office of Cultural and Academic Transitions (OCAT)




Julian Samoro Research Institute (JSRI)




Migrant Student Services (MSS)
 @ @ @ @
2011 Day of the Dead Celebration at MSU Dedicated to Victims of Homophobia

November 1st, 2011. 4-9:30 PM In the United States Mexican communities have turned the Day of the Dead into a public celebration of Mexican/Chicano cultures, a venue to create art reflecting on collective experiences, an opportunity to bring the community together and a way to raise awareness of the issues affecting the lives of people in current times. In that spirit Michigan State University is presenting an exhilarating program of cultural, educational and artistic events centered on the Day of the Dead, and dedicated on this occasion to raise awareness on homophobia, prejudice against sexual orientation and hate crimes in the United States. The Michigan State University Museum, the Residential College in the Arts and the Humanities, the LBGT Resource Center, the Center for Gender in a Global Context, the History Department, the Center for Latin American and Caribbean Studies, the LBGT Resource Center and the Office for Cultural and Academic Transitions, Mexa and CRU are hosting a Day of the Dead celebration on November 1st at Michigan State University. At the Museum there will be an ofrenda-installation, opening November 1st at 5 PM, dedicated to the victims of homophobia, prejudice and hate crimes, along with a program of diverse cultural activities (Aztec traditional dance, film, performance, presentations, vigil). The LBGT Resource Center will coordinate different activities by student organizations that address homophobic violence and prejudice in contemporary society.
SCHEDULE OF EVENTS:
4:00 PM Nusrat Ventimigliani (Equality Michigan)
Key Speaker sponsored by the LGBT Resource Center – MSU Museum
4:30 PM Screening of Just Because I Am – MSU Museum
5:00 PM Ofrenda to Gender-Shifters Installation – MSU Museum
6:00 PM Procession to RCAH Theater
6:30 PM Danza Azteca Performance – RCAH Theater
7:00 PM Chris Rabideau (Windsor Pride) – RCAH Theater
7:15 PM Mexa Students presentation – RCAH Theater
7:30-9:30 PM Tamales/Facepainting/Poetry/Screen Printing -RCAH
7:30-9:30 PM Sugar Skulls – CRU
Contact: Javier Pescador pescador@msu.edu & Estrella Torrez torrezjs@msu.edu