SAVE-THE-DATE
Wednesday, April 2, 2014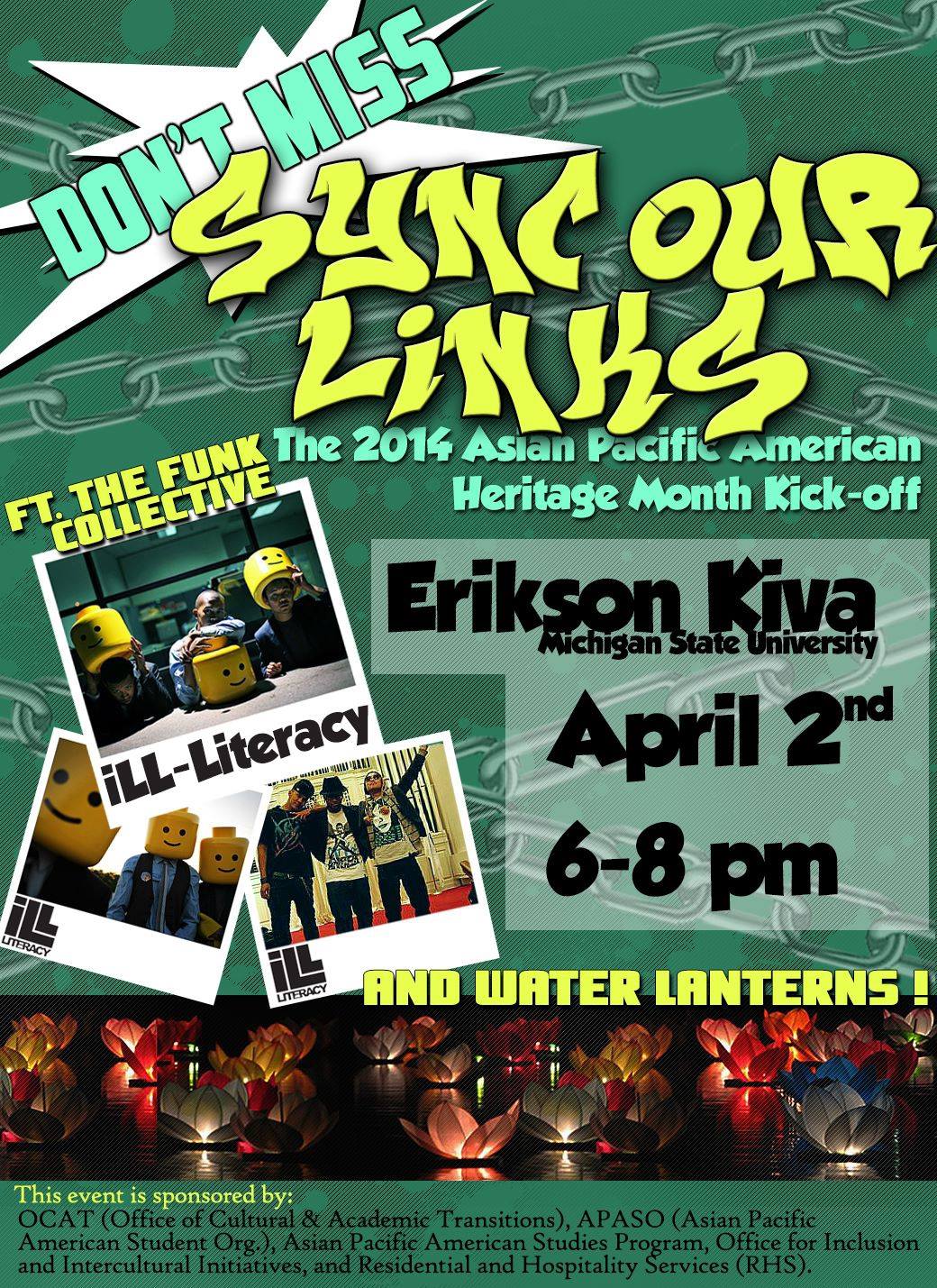 PAST EVENTS
2013 APA Heritage Month "Kick-Off"
Wednesday, April 3rd (6:00pm at Wonders, Kiva)
__________________________________________________________________
2012 APA Heritage Month Events
featuring the "Kick-Off" Celebration on Wednesday, April 4th (6:00pm at Erickson, Kiva)
This year's theme: "I am…we are…History Starts Now!" will feature a thought-provoking message of Asian American empowerment, interactive activities, Food celebrating "A Taste of Asia," the traditional symbolic launching of the Sky Lanterns AND will feature Curtis Chin producer of the http://www.vincentwhofilm.com/.
www.vincentwhofilm.com VINCENT WHO? explores the legacy of the Vincent Chin case. In 1982, Vincent Chin was murdered in Detroit by two white autoworkers at the height of anti-Japanese sentiments. His killers, however, were let off with a $3,000 fine. Galvanized by this injustice, Asian Americans around the country united…For more information, contact kozarmea@msu.edu or call (517) 353-9140.
__________________________________________________________________
2011 APA Heritage Month Events
"APA Heritage Month Kick-Off event"
The 2011 APA Heritage Month Kick-Off theme "Where we are from, Really!" aimed in challenging the "perpetual foreigner" stereotype of Asian Americans perceived to not be American or "from" America. Highlights of the event included sharing of stories by diverse Asian American experiences, cultural activities from APASO's affiliate organizations and a performance by guest spoken word artist, Professor Emily Lawsin from University of Michigan. The event ended with a beautiful symbolic launching of sky lanterns. Over 125 people were in attendance.
"APA Hidden Histories Walking Tour"
This event led by Professor Anna Pegler-Gordon, (James Madison and APA Studies Program Co-Director) in collaboration with OCAT brought students, faculty, and staff on a walking tour of MSU highlighting APA histories. The start of the tour began at the MSU Museum where APA art was absent moving towards the warehouse that stored the "hidden" APA art/artifacts. We ended the event with a cool treat at the MSU Dairy Store.